Balancing the Seesaw: Striving for Accessibility and Financial Sustainability Within Our Day Schools
Balancing the Seesaw: Striving for Accessibility and Financial Sustainability Within Our Day Schools
Jennifer Groen
When I was young, I loved playing outside on the seesaw. I'd scan the playground, searching for someone who might match my size so that we could get into a rhythm of play. As one of us went up, the other went down. My favorite thing was to try to balance the ends into a straight line. My partner and I would lock eyes, giggling as we tried to hold steady.
Today, in my role as the director of enrollment management and strategic initiatives at the Jack M. Barrack Hebrew Academy, a pluralistic, community secondary Jewish day school, I still spend much of my time trying to keep things in harmony, cradling extremes of a bell curve and balancing the general accessibility to the school with its financial health.
If we agree that Jewish day schools are in the business of educating Jewish children, how do we consider and accommodate various kinds of inequities, including families who have experienced trauma, are first-generation American or for whom Jewish education is a priority but is inaccessible? And if we want to exist a generation from now, how can we ensure that our schools will be financially viable?
For thousands of years, Jews have been dispersed throughout the globe. We still speak different languages, cook with different spices and wear different clothing, yet we pray toward the same place and to the same God. Our beauty and strength as a people lie in our diversity, and our children become better people when they are exposed to different stories. Our obligation to teach our children is not relegated to zip code or bank account—and yet, without significant tuition dollars, our schools will cease to exist.
Our schools are diverse. There are those who don't understand how a group of Jews can reflect such rich diversity. They fail to see the depth, nuance and richness within our community. We have students with very high academic achievement and students who require more scaffolding. We have families who drive over an hour each way and families who walk to school; families who share one car and families who have cars for their nannies. We have students whose families are established and well connected, and those who moved to this country with their children and are hopeful and vulnerable.
Jewish day schools today must face important issues honestly. Does every Jewish child deserve a Jewish day school education? is a very different question than, Can every Jewish family afford it? And if Jewish day schools reflect the people in the community, how can we be accessible to those people while maintaining the health of the school?
These are difficult times and questions, but we cannot evade them. They are not going away. By creating a model of greater financial sustainability through strategic and disciplined allocations of financial aid dollars, we can build schools that will have stronger infrastructure to support continued growth and diversity.
We want to provide our children with the best Jewish and general studies educational experience, including the finest teachers, programs and labs. We want them to be able to get involved in a variety of activities, including theater, music, debate, STEAM and athletics. We need security to keep them safe and facilities to inspire them. This is the product we want for our children. Betzedek, rightly so, but this package is as expensive as it is priceless.
From a macro level, we must clarify the community's commitment to the Jewish future and assess if there are ways to leverage communal support. If we believe that Jewish day schools are educating future leaders and visionaries and instilling skills, passion and purpose to impact the greater Jewish community, the investment can't just be on the backs of parents. We have to hold the door open wide for our children.
The cost often prices out the most vulnerable among us, limiting the diversity of our population along social and economic lines, but there are actionable steps we can take to try to balance the seesaw.
1. Get clarity from school leadership.
The board of directors and head of school are responsible for the school's financial health. Understand your school's mission, vision and priorities. Identify what success looks like to your leadership and set goals accordingly. It's very difficult to meet conflicting goals. Is the end goal more students, regardless of the costs in tuition assistance dollars, or greater institutional stability and financial health? What are the objectives of your financial aid process? You can't have both as a primary goal.
This first step is often the most difficult, because we desperately want to achieve both simultaneously. Still, push for clarity. You won't know if you are successful in the eyes of your school's leadership if you don't know the main objective.Create and maintain a strategic model for tuition assistance that has clear guidelines and rationale so you can measure your achievement.
2. Understand your budget.
Take the time to meet with your CFO to understand your school's budget. How much does tuition bring in? What are the fixed costs? What are the development goals? What percentage of your endowment is used in a fiscal year? Does your school carry debt, and is there a plan to reduce it? What percentage of students are on aid, and what is the average adjustment amount? What does financial health look like on paper?
Numbers tell a story and provide important insight. Tuition dollars typically make up the majority of the school's income budget, and the stories you represent must be connected to the spreadsheets. You are in a unique and important position to bring insights that can help to keep the school healthy, but only if you understand the budget well.
3. Be in the room where decisions are made.
Do you attend board meetings? Finance committee meetings? Development committees? It's important to be part of these conversations. As enrollment management professionals, we have access to the admissions data and trends that are critical for decision making. Develop relationships with board committee members and establish trust so that your voice is valued. As enrollment management professionals, we know every parent in the school and can alert the institutional advancement team to prospective new donors and what they care about. Listen to what is being said by those in position of power, and contribute uniquely to the conversations so that your voice and the families you speak for are brought into the conversations.
4. Do your research. Be creative.
Look at the problem from the eyes of an anthropologist. Leading the Jewish future requires making difficult decisions that must be data-driven, constructivist and in line with our values. Look to identify the need and offer options that you've analyzed to people so that they can make informed decisions.
When our tuition assistance needs were growing higher than we could support, I was asked to look at the data for trends. Two major findings emerged. Many of our applicants came from families whose parents worked in the Jewish community and families whose parents immigrated and were raising first-generation Americans.
Our school already had a major donor who was earmarking his tzedakah toward Jewish communal professionals. With our data in hand, demonstrating the need, we met with him and were able to secure additional funding for this cohort.
We were committed to maintaining our diversity and wanted to be able to make tuition affordable for families raising first-generation Americans. We worried about people being able to complete an online form just as we recognized their challenges. Often they had little family support, struggled with English and had far less experience navigating American society. I took the data to our lay leadership, and we got to work. We connected with a group of philanthropists who could identify with their stories and struggles and held a parlor meeting. We asked two first-generation families to come to the meeting with their children who were about to graduate. These students rose to the greatest academic heights and had earned substantial scholarships to very prestigious universities. That night we raised more than $400,000 of new money that would be earmarked for tuition assistance for these first-generation Americans, enhancing the worldviews and perspectives of all our students.
Enrollment management professionals hold an essential role in building the school culture and ensuring that the populations of our schools reflect the diversity of our Jewish community. The stakes are high. The students we enroll define the school we will become. And the future of Jewish day schools depends in large part on our work.
Balancing a seesaw indefinitely is an impossible task. Inevitably there will be ups and downs. However, tolerating the ebbs and flows of enrollment and finances, working toward a collective goal and keeping a long-term view will help maintain stability so that our schools will be secure for generations to come and we can continue to grow together.
Return to the issue home page:
Image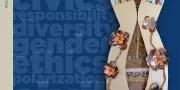 Winter 2019