On My Nightstand: Books Prizmah Staff Are Reading
On My Nightstand: Books Prizmah Staff Are Reading
Helen London, Odelia Epstein, Yoni Yares, Robin Feldman
Stolen Beauty: A Novel
by Laurie Lico Albanese
Stolen Beauty is a book about the life of Adele-Block Bauer and her niece Maria Altmann. It takes place in the wealthy world of early 20th century Vienna and the rapidly darkening years of the 1930s. You may have heard or seen Woman in Gold, the movie starring Helen Mirren as Maria, who sues the Austrian government for the return of her aunt's magnificent painting by Gustav Klimt, stolen by the Nazis. This book fleshes out the story with fictional accounts of Adele's and Maria's lives.
I saw the movie, then the painting of Adele-Block Bauer on display at the Neue Galerie in New York City as part of the largest Klimt collection in the US. It is dazzling, so when I heard about Stolen Beauty, I was anxious to read all about the model and her painter. I was not disappointed. The combination of the art history of the period, a description of the avant garde of Vienna and the Nazi looting of art owned by Jewish citizens makes this a fascinating read. If you pick up this book, don't forget to read the author's notes about her own family's history.
Helen London
When Breath Becomes Air
by Paul Kalanithi
This book is the memoir of a neurosurgeon who is diagnosed with terminal cancer. Dr. Paul Kalanithi gives his readers a deep look into the doctor-patient relationship. At the height of his career he was directing his patients' care, and the next moment he was the patient looking towards his own doctor for guidance. His book touches on how to live and how to die. When someone looks towards you for advice, do you give them all your attention? Do you choose your words carefully? These are some of the important lessons that Dr. Kalanithi tries to imbue. When Breath Becomes Air is a must read for fans of Dr. Atul Gawande's books.
Odelia Epstein
A Voice Called: Stories of Jewish Heroism
by Yossi Katz
This is a book that exudes inspiration on every page and with every reading. I first got this book last year when I saw Michael Levin's face on the cover looking at me in the local Jewish bookstore. Michael was an American-born volunteer in the Israel Defense Forces, a paratrooper who died in battle during the Second Lebanon War. Michael's sister was one of my USY staffers, and I quickly bought the book. Each chapter provides a full story of a Jewish hero; you can read it cover to cover or search for a particular hero's story. I encourage everyone to read the story of Ilan Ramon, and especially of Michael, and to share them with others. On many Shabbat afternoons, this book has given me so much more than inspiration.
Yoni Yares
100 Jewish Things to Do Before You Die
by Barbara Sheklin Davis
I had the pleasure of reading this book over my Passover vacation. Passover was my grandmother's holiday, making sure we all gathered together to enjoy food and each other and most importantly to retell the story of our ancestors. This book reminded me of how important it is to continue living our heritage and sharing lessons with our family.
While I enjoyed reading each suggestion, what I enjoyed the most were the items on the list that encouraged people to participate in activities within a community. Whether it is working out at a JCC, joining a Jewish organization or participating in an Israel trip, each one reminded me of how much I treasure being a part of our Jewish community.
Reading this book also reminded me of the moments I have shared with my family, those I have tried out on my own and some I want to pursue in the future. As Dr. Davis states in the foreword, "This is not a how-to manual," but for me it is a complete guide to enhance my life as well as my family's. This book provides a wonderful opportunity to turn a page, try something new and connect more deeply to Judaism.
Robin Feldman
Return to the issue home page:
Image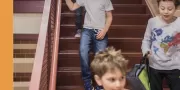 Summer 2017