The Path Toward Jewish Day School Sustainability: Lessons Learned
The Path Toward Jewish Day School Sustainability: Lessons Learned
These are critical times for the sustainability of Jewish day schools across North America. Many   are struggling with changing demographics, declining enrollment, increased need for financial aid, and budgetary strain.
At Golda Och Academy in West Orange, New Jersey, we have faced these issues head on and have made great progress in overcoming them through many different initiatives, primarily a major capital and endowment campaign. The campaign is a story of successful partnerships and teamwork on different levels. We have many lessons to share through this exciting journey. The education of young Jews for our Jewish future is too important for Jewish day schools alone to pursue; we must mobilize diverse partnerships in order to succeed.
Community Partnerships: Day Schools and Jewish Federations and Foundations
During the 2008 economic crisis, many schools experienced a significantly increased need for financial aid and serious concerns about student retention. Golda Ach Academy shared this painful experience. However, our school was fortunate to be on positive trajectory because of a transformational partnership with the Jewish Community Foundation of Greater MetroWest, which launched a new MetroWest Day School Excellence and Affordability Initiative in 2007. A major family foundation, whose priority was middle income affordability, had the vision and great generosity to offer a match pool to the three Jewish day schools in our community for endowment fundraising. We were also fortunate to have a visionary fundraising professional who made it her mission to help these three day schools to raise endowment funds for academic excellence and affordability, and a foundation executive director who generously gave of his time to provide our school leaders with training and technical support in planned giving.
Because of this community partnership approach, a team led by one of our past school board chairs and alumni, was able to ask Daniel Och, a classmate and former student of our school, for a major transformational gift that renamed our school in memory of his mother Golda Och. This gift, a challenge gift, inspired many others to follow.
One lesson here is that Jewish day schools should reach out to their local community federations and foundations to build relationships and put support of day schools on the community agenda. Support of Jewish day school education must be recognized as a community priority, not just the responsibility of Jewish day school parents. Day school leaders should serve on federation boards and other committees, support the federation campaign and be a visible presence at events like Super Sunday. Federations and foundations are in a unique position to help day schools identify potential mission partners among donor-advised fund holders and other community donors. A partnership between federations and day schools can raise the bar on a school's capacity to pursue endowment and major gifts fundraising.
The support of Jewish day schools is a win-win scenario for local Jewish communities who will benefit and flourish when our dynamic and committed Jewish day school graduates become active on campus, at their synagogues, in Jewish and non-Jewish nonprofits, and become future federation and agency leaders. In a recent AVI CHAI study on leadership among young Jews, entitled "Generation of Change: How Leaders in their Twenties and Thirties are Reshaping American Jewish Life," Jack Wertheimer found that "Over one-third of younger leaders attended day schools, a figure that rises to 40 percent for the young non-establishment leaders." Clearly, Jewish day school alumni are making an impact.
Leadership and Fundraising: the Board and Head of School
One of the most influential factors to successful Jewish day school fundraising are the roles of the board chair and CEO in supporting fundraising. When a board chair promotes school giving and through personal example makes the school his or her number one philanthropic priority and steps up to make a leadership gift for whatever campaign your school is working on, it will be transformational. The rest of the board generally follows. This serves to inspire other donors and community prospects and generally will lead to a culture of giving.
Our school has been blessed with a succession of such board chairs in recent years. Several years ago, one inspirational board chair at our school announced that she was doubling her annual campaign gift from $10,000 to $20,000 at the board's annual campaign launch. Others were inspired and the annual campaign was very successful that year. Another board chair lent her support by attending weekly meetings of the capital and endowment campaign during her entire term.
This year, our new board chair powerfully opened the first meeting of the year with a strong statement of the importance of board leadership in philanthropy. It goes without saying that every Jewish day school needs to have 100% board participation in the school's annual campaign and in other important fundraising initiatives. I have been surprised to hear about schools where the development director is not welcome at board meetings and there are no development reports as a key agenda item at every meeting. Board engagement in fundraising is a key determinant to success.
The involvement and partnership of the head of school in fundraising is also truly critical. There is a body of fundraising literature that supports the idea that organizations where the CEO is actively engaged in fundraising are more successful than those that do not. As noted in a Compass Point study, quoted in Deborah Kaplan Polivy's new book, Donor Cultivation and the Donor Lifecycle Map, "Those executives who are involved in the development process are more likely to be in high-performing (fundraising) organizations."
When a donor is being asked for a major stretch gift, he or she usually likes to be asked by a senior person in the organization, often the head of school or board chair, in partnership with the development director or other lay leaders who are peers. The development professional must be a conductor coordinating donor cultivation and solicitation assignments. Our head of school has been a central player in our school's fundraising programs and has personally cultivated and solicited major donors. In one instance, she built a very strong relationship with one special donor for many years which led to an unexpected game-changing bequest for our school.
The Lay Professional Partnership: Creating a Development Team
A critical function of the board chair is to appoint lay development chairs or a development committee who will work in concert with the development staff, no matter how large or small the development office. Over the last ten to fifteen years, Golda Och Academy has been fortunate to have truly committed and passionate lay development chairs who have worked tirelessly to support our school. Most recently, this group has been trained in major gifts solicitation and planned giving and has served as a tireless outreach body since the beginning of our campaign. Our team including development chairs, board chair, head of school, development director and associate director meet weekly for two hours to review prospects, solicitations and development projects. In addition, we have relied on a truly committed and active group of fifty volunteer solicitors to make calls for our annual campaign.
Colleagues and the Day School Professional Team
Too often in Jewish day schools, there can be silos, where administrators in different functional areas work independently. It was a revolutionary moment when development and business office leaders at our school sat together and calculated projections of what we would need to fund a middle income affordability program for K-12 until the current cohort of kindergartners graduated. This became the data behind the solicitation of the transformational philanthropic gift that was the cornerstone of our current campaign. The CFO or business officer at a school can be a truly wonderful partner in helping to determine the potential cost of fundable donor opportunities. In addition, the development and admission departments can benefit from meeting regularly to discuss community outreach to attract new students and new parents who might have the potential to be school donors.
Why Give? Developing a Compelling Case for Giving
Why should donors support your school? This "why" forms the case for giving. We named our capital and endowment campaign effort "Building on Tradition" and gave it three priorities based on school needs and what we felt would speak to most donors. The three priorities are facilities improvement, endowment for academic excellence and endowment for affordability. A broadly defined and ambitious campaign vision can serve to mobilize and inspire donors with diverse interests to participate.
Donors as Key Mission Partners
With community support, a strong case for giving, a fundraising team that includes the development director, board chair, head of school, a trained lay development team, and other school administrators, a school can now identify prospects who are closely connected to your school and go out and ask them to serve as mission partners. It is important to look at many different school constituencies to find donors: current parents, alumni parents, alumni, grandparents and school friends. Our alumni have been particularly supportive mission partners. Donor research, the right solicitor(s), and a little chutzpah can also be instrumental in helping schools to ask donors for stretch gifts in their areas of interest that might not have been previously thought possible. In addition, the importance of donor cultivation and stewardship over many years is critical.
Our school is extremely grateful to the many donor partners who have stepped forward to make a difference to our school in our current campaign. This has been an opportunity to take donor interests and school needs and create a marriage at the highest level. Our new Dr. Lynne B. Harrison STEM Program at our upper school is funding exciting robotics, computer science, engineering and science curricular and enrichment activities for our students. The Fund for Faculty Innovation and Excellence that offers competitive grants to teachers who have creative ideas to implement in the classroom. Our Arie and Eva Halpern Fund for Jewish Heritage allows us to bring in special Judaic arts programming each year to our students. Finally, our beautiful and newly renovated Wilf Lower School Campus has been made possible by a lead gift from Jane and Mark Wilf and the Wilf Family Foundation.
In addition to individual donors, it is important to develop partnerships with foundation donors. This has been a key strategy for our school in our current campaign, resulting in several major foundation gifts. Most of these leads have come from connections made through relationships of board members, donors or administrators.
Every school, both large and small, can begin to take steps forward on the path to financial sustainability. Wherever you are on this important journey…good luck! May we all go from strength to strength for all our students and for the future of the Jewish people.
Golda Och Academy, formerly Solomon Schechter Day School of Essex and Union, is a pre-K-12th grade Jewish day school affiliated with the Conservative movement and located on two campuses in West Orange. New Jersey. GOA is proud to be close to the completion of a $30M capital and endowment campaign thanks to a lead challenge gift by former student Daniel Och and his wife Jane.
Stephanie Bash-Soudry has been the director of development and alumni relations at Golda Och Academy since 2000, as well as the proud parent of three GOA students. sbashsoudry@goldaochacademy.org
Return to the issue home page:
Image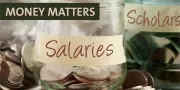 Winter 2014