Fundraising Compaigns in Our Schools: Feasability Study, Key to a Successful Campaign
Fundraising Compaigns in Our Schools: Feasability Study, Key to a Successful Campaign
If Rip Van Winkle were to wake up in a number of our schools today, he would recognize everything.  This is how we felt four years ago. We knew that we had to "catch up." And along came a new head of school, who wanted Rip Van Winkle to wake up in our school and not know where he was! She began to transform our learning community. Along with strengthening our secular and Jewish education, our goal was to ensure that our students will graduate with all the tools and skills needed for their future success at their fingertips.
Our Building for the Future Campaign aimed to position our school as a most advanced academic institution. Our $3.5 million campaign was segmented in the following ways:
20% to make necessary repairs to our physical structure
30% to reconfigure the building interior and provide the hardware to accommodate educational technology that will prepare our students for the seamless transition to higher education and beyond
50% to increase our endowment, allowing us to provide ongoing professional development and technology upgrades while maintaining financial stability going forward
And so we began to create a campaign to provide cutting-edge technology centered in a progressive learning environment, allowing our students to master the Four Cs of forward moving pedagogy: critical thinking, creativity, communication and collaboration. It was designed to enhance our ability to adhere to the core mission of our school: to provide a comprehensive, values-based Jewish education with the highest academic standards.
This quest began with a feasibility study, which was critical to our understanding of the capacity of Birmingham's 1200 Jewish families to support the campaign. Fortunately, we had the support of our Birmingham Jewish Federation professionals to carry out this study. Twenty families were interviewed. From this process, we were able to project a financial schematic that would serve our day school in a healthy campaign.
Early on in the feasibility process, we were able to identify a donor who would leave a $1M endowment gift contingent on the rest of the campaign raising $2M in current or deferred commitments. This was an inspiring commitment that gave us the energy and excitement to look ahead. In addition, even though potential donors in the feasibility study knew we were only having a feasibility study and we were not actually soliciting them for money, we asked them to tell us openly what they could consider if the campaign met the goals: a top-notch school that is financially viable and enrolls more students. From these interviews, we were able to get enough information to project a successful $3.5M campaign.
A feasibility study such as this is critical for many reasons. Yes, we were able to prognosticate a successful campaign. In addition, we were able to gain a lot of information about their perceptions of our school, about what donors expected from this campaign, how passionate they were about the day school and seeing it succeed, and how committed they were in providing Jewish education for young people in our community. They saw the young people as future leaders. This study gave us a road map for this campaign's journey.
We were able to use the information from the feasibility study to segment the campaign by creating various marketing opportunities for different groups of our potential donors. For this work, we engaged a local marketing professional. Our marketing took the form of parlor meetings, luncheons, face-to-face solicitations, brochures, a video, and mass mailings, one for the ask and others as follow up reminders as well as phone telethon. Important, include in our information, was specific information of ways to give and we encouraged pledges that could be paid out over five years.
We began with the feasibility studies in 2012 and launched the campaign in 2013-14. It is ongoing and we are still making face-to-face solicitations and follow-ups. To date we have raised $1,647,300 in foundation expectancies, have created new three new cash funds in our endowment and have raised $1,573,188 in current funds. 
Our students entered an entirely renovated school this year. There is a lot of excitement at the NEMJDS, but most importantly, our academic program now has the space and tools to meet the needs of our teachers and students. And our newly designed Innovative Learning Center, which is staffed by our new Innovative Learning Specialist, is a hub of transformational activity all day.
Return to the issue home page:
Image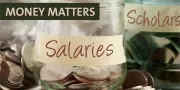 Winter 2014