Israel Action Items
Have your school issue a statement supporting Israel in the student newspaper, monthly newsletter, or community newspaper.
Monitor and respond to local media coverage by writing letters to the editor and/or calling the news director.
Solicit statements from people in your school, city, synagogue, or any other prominent personalities, and include these statements in your school's publications.
Write a letter to your Member of Congress (www.congress.org/congressorg/dbq/officials/) or to President Obama (president@whitehouse.gov).
Stay informed about Israel by frequently checking either of the following websites: www.jpost.com, www.haaretz.com, www.jta.org, www.jrep.com, www.israelinsider.com, www.israelnationalnews.org, www.ynetnews.com.
Blog for Israel: Start your own online log or notepad. www.blogger.com
Learn more about Israel at www.standwithuscampus.com.
Identify a cause or an organization to which your school can relate, such as Birthday Angels (birthday-angels.org) or Yad LaKashish (www.lifeline.org.il).
Plant a tree in Israel through www.JNF.org.
Dedicate 3-5 minutes daily to reciting a prayer for Israel or a chapter from Tehillim.
Share an experience you had traveling to Israel or otherwise connected to Israel.
Come up with your own list of Israel Action Items (and share them with us please!). Aish.com suggests seven (www.aish.com/jewishissues/jewishsociety/7_Ways_You_Could_Help_Israel.asp).
Return to the issue home page:
Image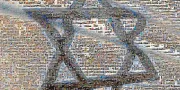 Israel & Zionism Education
Spring 2009