Commentary: School Memories, Yesterday and Today
Commentary: School Memories, Yesterday and Today
"To be sure, everyone has a capacity for memory that is unlike that of anyone else, given the variety of temperaments and life circumstances. But individual memory is nevertheless a part or an aspect of group memory, since each impression and each fact, even if it apparently concerns a particular person exclusively, leaves a lasting memory only to the extent that one has thought it over—to the extent that it is connected with the thoughts that come to us from the social milieu." Maurice Halbwachs, On Collective Memory
Audrey Walz, alumna, parent and kindergarten teacher
Fuchs Mizrachi School, Beachwood, Ohio
New experiences often generate powerful memories. When I walked into the school on my first day of ninth grade, I did not realize just how much the next four years would impact my future in so many ways.
As a new student to the atmosphere of Torah and Judaic study, I was immersed in a new way of life. I distinctly remember, at first, feeling inadequate in my Torah learning skills, unsure I would ever be able to fully understand and keep up with what was going on around me. It was not until my Chumash teacher reassured me with her thoughtfulness and warmth that I felt at home. She spent extra time making sure I was not behind, encouraging me to keep pushing myself, not because I needed to do well in school, but because that was the commitment that I made to myself.
This distinct memory guided me on a path that shaped not only my life, but also my future in choosing where to raise my children, the same community that helped make me into the person I am now. I wanted my children to be surrounded by the same support and encouragement I was able to receive, to create their own memories and achievements. As an educator, my memories have propelled me to want to be the person who, in turn, will be able to help other students feel the way I was made to feel during my time there.
Esther Shavitzsky, alumna and parent
Beren Academy, Houston, Texas
I grew up attending a small Jewish private school, where the student body was made up of students from different neighborhoods, synagogues, nationalities and levels of religiosity. As a student, I never felt a sense of competition or struggle because of my background. Just the opposite, our differences were celebrated, even just among my peers. I remember my mother coming back from Mexico, where much of my family is from, and bringing back candy for my friends, making sure there was a kosher symbol so that everyone felt comfortable. Many of the students were unfamiliar with the candy, something that was readily available in my house. On weekends, non-religious kids would stay over for Shabbat at observant classmates' homes, and respect for religious practice was always maintained.
I am proud to say that the nonjudgmental environment has continued to flourish among the student body to this day. My girls are growing up to learn that families practice Judaism differently and that families as a whole may look different. In a world where competition and adversity is rampant, having an environment where my kids can feel safe and free of these hardships is relieving and heartwarming.
Professor Jonathan Weissman, day school alumnus and parent
Hillel School, Rochester, New York
Having attended a Jewish day school, my memories as a child, and even as a parent, have been greatly shaped by it. Learning about Judaism from an early age, in a formal setting, gave me the structure and showed me the importance of my religion. What it means to be a Jew, what is expected of me as a Jew, and other important concepts were part of me since my first day as a student. When I think back to my youth, I was able to take what I learned in school and apply it to life each and every day. Learning about the Jewish holidays in school and celebrating with my family are some of my fondest memories!
Now that I'm a parent, those memories are rekindled, as I get to be to my kids (along with my wife) what my parents were to me. I get to share the wonderful things they learn in school and bring it to life with them just as my parents did for me. Instead of being asked what I learned in school, I am the one asking the questions. The memories of the responses and interactions create a new dimension of my schooling, coupled with the schooling of my kids.
Return to the issue home page:
Image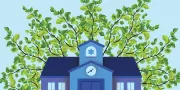 Fall 2021