Cultivating Knowledge Capital for Jewish Innovation
Cultivating Knowledge Capital for Jewish Innovation
Joshua Avedon and Shawn Landres
Significant numbers of the individuals involved in new Jewish spiritual communities, what we call independent minyanim and Jewish emergents, come from a day-school background. The 2007 National Spiritual Communities survey states that "day school alumni amount to 15% of all synagogue members in the United States (and most of them are Orthodox); but they amount to 19% of the participants (largely non‐Orthodox) in the rabbi‐led emergent communities, and an astounding 40% in the independent minyanim." Those numbers are clear evidence of the growth of social capital due to investment in Jewish education. More precisely, they indicate that the contemporary Jewish educational system is creating enormous reserves of knowledge capital, which Wikipedia defines as "a concept which asserts that ideas have intrinsic value which can be shared and leveraged within and between organizations. Knowledge capital connotes that sharing skills and information is a means of sharing power."
As we and our colleagues at The Natan Fund and The Samuel Bronfman Foundation recently have observed, "sometimes the most important, far-reaching effects of a project cannot be anticipated at its outset." Considering the creativity readily apparent in the wave of new Jewish initiatives launched over the past decade or so, it is clear Jewishly educated leaders are leveraging their knowledge capital in new and unexpected ways. According to the 2008 Survey of New Jewish Organizations, more than three quarters of these Jewish startups are focused on creating new expressions for meaningful Jewish identity, whether through religion, education, arts and culture, or social advocacy. Moreover, nearly three quarters of participants describe themselves as deeply or moderately involved in the organized Jewish community.
Knowledge capital management tends to have far-reaching effects not only because it empowers those who possess it, but also because it builds bridges to populations that haven't had the benefit of direct investment. Some of today's most successful and dynamic startup leaders come from strong pluralistic Jewish educational backgrounds, and in turn they are also instilling a love of learning and Torah in Jews and others who grew up entirely outside organized Jewish education. Their communities embrace new members regardless of where they are on their Jewish journey. New vitality has been infused into traditional practice by a commensurate surge in active Jewish participation by people with little previous connection to Jewish communal education and religious practice.
This generation of Jewish leaders and community members came of age in during a boom in Jewish market activity. As products of day-schools and strong supplementary education, Jewish youth groups and camps, as well as Hillel and young adult programs like Birthright, they belong to a burgeoning sector of new Jewish communal life. The organizations and communities they are building reflect a number of core values inculcated in during the Jewish market boom.
At Milken Community High School, a non-denominational day school in Los Angeles, a group of teenagers came together following the tragic death of one of their friends in an alcohol-related car accident. They created The Lev Foundation, an advocacy, education and philanthropic organization that also hosts events and provides transportation solutions to make sure no one ever operates a motor vehicle under the influence of alcohol or drugs. They lead by example and demonstrate the core Jewish value of local communal obligation.
A group of day-school educated North Easterners came together to found the first year-round egalitarian yeshiva called Yeshivat Hadar in New York City. Their beit midrash is the direct outgrowth of the independent minyan they founded, Kehillat Hadar, and also an institute to support the development of independent Jewish spiritual communities, Mechon Hadar. Their entire platform is based on the idea that Jewish community can be self-generated and lead by anyone, rather than depending on established organizations and ordained clergy. They help high-involvement Jews and those looking for challenging Jewish learning figure out what it means to be a lay leader for your own Jewish life.
At Kavana in Seattle a young rabbi with a day school education joined up with a group of successful social and commercial entrepreneurs to invent a new kind of Jewish community that works like a co-op, but offers all the amenities of a synagogue (minus the building, of course). Members of the cooperative, who are called "partners," take active roles in being both consumers and producers of Jewish experiences and community. Today, Kavana is expanding its Hebrew immersion play group into a full-blown Hebrew immersion preschool, bringing high-quality Jewish education to the children of parents who had little or none themselves. Kavana's approach resonates with both highly involved Jews and disconnected Jews by focusing on cultivating organic community in intimate settings.
In Boston a group including day-school educated activists created Kavod House (now part of the Moishe House Network), a new model for Jewish community that includes a communal residence, regular Shabbat dinners and holiday celebrations as well as Jewish learning and arts. At the heart of their project is a commitment to social justice work—organizing and advocating for causes within the Jewish world and well beyond it. The community empowers its members to live out Jewish values in everyday life, blurring the line between secular and sacred. Moishe/Kavod House is emblematic of new organizations and communities that build social networks in order to mobilize citizens to repair the world.
With so many beneficiaries of structured Jewish education doing so much, perhaps it's time to think about the next step in expanding our portfolio of Jewish knowledge capital. If the long-term commitment to Jewish education is part of a multi-generational investment strategy, then the first phase is now complete. Having transformed the meaning of Jewish education and community for thousands of children and families for many years, members of this first generation are now building their own dwellings and learning environments. For their children, pushing for Jewish literacy won't be a rear-guard action fought half-heartedly with guilt pangs for doing unto their children a Hebrew school experience that was done unto them. Children of the emergents grow up celebrating the full cycle of the Jewish year, absorbing Jewish values, and seeing Jewish learning all around them. Jewish life is everyday life. To them Judaism isn't drudgework your parents force you to do, it's actually all the fun you are supposed to have when you get to have a holiday celebration every single week. As was overheard a few years ago from the backseat of a mini-van by a carpooling mother (herself a day school alumna) about a thriving spiritual community startup in Los Angeles:
Kid One: "Do you go to IKAR?"
Kid Two: "What's IKAR?"
Kid One: "It's like Hanukkah, but all
year long."
Kid One lives in a fertile environment for Jewish innovation, partially because of Jewish knowledge investment spanning a generation. Jewish institutions have provided educated, motivated and passionate Jews, some of whom are leaders in the Innovation Ecosystem. But what if day schools actually became centers for innovation themselves—think Junior Achievement for Jewish social entrepreneurs. Students, like the ones from the Lev Foundation example above, would graduate from high school with a sense that not only was their Jewish communal destiny in their own hands, but that they had the skills and knowledge to chart their own course as adults.
Imagine a high school program that encourages teams of students to launch their own public benefit organizations—to answer a pressing need in their immediate community, to tackle a problem facing their city, or even to take on an issue with national relevance. In addition to teaching social responsibility, this kind of program would educate young people with the real skills to become effective Jewish lay-leaders and professionals in later life. Mentors and community leaders could be enlisted to provide coaching and planning skills. Community organizing, cause-related marketing, and nonprofit fundraising all could be taught in a framework that empowers and challenges young adults to see themselves as not just having a voice, but also possessing the power to change the world for the better.
Ultimately most education is about a simple process: invest young people with knowledge capital and motivate them to do well for themselves and for the world. We plant seeds and hope those seeds will grow into trees that bear fruit. The actual results take years to materialize.
What have we learned from the years of Jewish knowledge investment and the proliferation of new social ventures led by its beneficiaries? First, it worked; fair to say we've advanced from hypothesis to solid theory on how to develop committed and educated Jews. Second, we need to keep investing in the day school and other learning program graduates long after they stop being students. The Jewish innovation sector is the applied science laboratory where all that educational pure research is being turned into successful products. There is no reason why Jewish schools can't also become laboratories for innovation. And third, as the Jewish community is going through crises internal and external, sometimes it makes sense to keep moving forward with an investment strategy that has a proven track record. As our community casts about for solutions to problems of Jewish identity and literacy, juggling urgent needs with long-term challenges, putting money into Jewish day schools and youth education is like choosing T-bills as the Jewish philanthropic vehicle of choice. That investment may take a while to mature, but it sure pays in the end. ♦
Joshua Avedon and Shawn Landres are the co-founders of Jumpstart, a Los Angeles-based incubator, catalyst, and think tank for sustainable Jewish innovation. They can be reached at
[email protected]
and
[email protected]
.
Return to the issue home page:
Image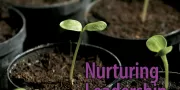 Summer 2009