Visions: Past, Present, Future
Visions: Past, Present, Future
Interview with Daniel Marom
Who were your role models starting out in the field?
This is one reason for my having somewhat retracted from the term "vision." You cannot buy or plan substantive Jewish education the way you would make a decision at a town hall meeting or develop a five year plan for your business or organization.
My role models were first and foremost my own teachers in my early years at day school. An example is my English teacher Merle Gould, who taught general and Jewish literature in a way that helped connect me with spiritual matters—things that were beyond the materialistic world in which I grew up. Years later, I had the privilege of serving as her apprentice as part of my teacher certificate program. The same applies to my history teacher, Zale Gutzin—a true pedagogical virtuoso if I ever saw one. He challenged me to think independently and to translate my deepest commitments into action. Years later, as part of a research project, I came knocking on his door in order to interview him about the work that he did "behind the curtains" in planning and implementing his teaching methods. Having been in the field for decades at that time, I thought I knew a lot about teaching and that nothing in the interview would surprise me. I was wrong. I sat there and took notes silently, as this master of education shared the genius of his work with me and shocked me about how virtually every detail in his class was the product of sophisticated planning and implementation. I could say similar things about a number of people from diverse areas, such as my first teacher in Jewish philosophy, Rabbi Abraham Feder, and Aubrey Zimmerman, my basketball coach.
What gave rise to the Visions project? What needs of the field did the project address?
The Visions Project was founded and launched by my teacher and mentor, the late Professor Seymour Fox of blessed memory, who, as I and many others see him, was the foremost Jewish educator of our generation. Fox believed that the perennial ills of Jewish education—i.e. the lack of resources, the dearth of high-quality personnel and curricula, its low priority on the community's agenda—these were themselves symptoms of a deeper problem. The very image of the educated Jew that guided community leaders and practitioners in devising and implementing Jewish education was often tepid, obsolete, superficial, sentimental, ripe with contradictions, and often unsophisticated. Jewish education could not overcome its ills by focusing exclusively on practical solutions to the immediate and urgent problems on the ground. It had to invest its energies and resources as well in rearticulating the very purposes of Jewish education and to redesign the realities on the ground accordingly. Anything less could actually contribute to the learner's estrangement from and critique of things Jewish. Fox first made this claim in the late 1950s. Since then, he devoted much of his career to building the infrastructure upon which Jewish education could be redesigned according to this view. As part of this effort, he established the Visions Project in the late 1990s under the auspices of the Mandel Foundation. The Visions Project's major activity over the next decade was to work with leading thinkers and educators in the Jewish world to devise alternative conceptions of the educated Jew.
What has been the project's impact?
The ensuing product of this ten year effort was the anthology that Fox and I edited together with Professor Israel Scheffler, who was then the director of Harvard University's Philosophy of Education Research Center, Visions of Jewish Education. The dissemination of that anthology—including in its Hebrew edition and now in its forthcoming French edition—as well as its use in various training programs for leaders of Israeli and Jewish education worldwide has led to its initial impact all across the field. The case for vision has become part of the mainstream rhetoric in Jewish education; Visions has become required reading for people making a career in the field; a number of significant field initiatives in developing vision guided Jewish and Israeli education have emerged and have been documented; and a whole series of books and articles have been published on the topic. A great example is Daniel Pekarsky's book Vision at Work: The Theory and Practice of Beit Rabban, which provides a vivid and detailed portrait of a non-denominational American Jewish day school that is systematically guided by a profound set of ideas about being Jewish. As well, some people have now focused their careers on serving as "vision facilitators" for institutions in the field. All in all, these amount to something of an infrastructure for deeper and broader impact, should communities and institutions want to invest their resources in this area.
What has changed over the years since the project was launched?
Fox's sudden death in 2006 was a terrible blow to the whole field that he launched. That blow was compounded by the recession in the world economy too, since in that situation, funders saw areas such as the development of vision in Jewish education as being less urgent than keeping institutions and programs afloat. Despite these setbacks, and with the stabling of the economy, the field continues to grow in various circles through initiatives and research carried out by scholars and educators. The Visions Project focused its energies on the crises of Israeli and Zionist education and developed a whole slew of field projects and new materials that both deepen and broaden the application of Fox's ideas in Israel. The challenge now is for the field to help community leaders and practitioners in systems of Jewish and Israeli education to go beyond being convinced by the case for vision and using its rhetoric to investing in large scale long-term initiatives in conscious re-articulation of their purposes and practices in terms of compelling and profound images of the educated Jew and the educated Israeli.
What have you learned in schools you've worked closely with putting vision into practice?
My chapter in Visions summarizes my first attempt to serve as an on-site vision facilitator in a community Jewish day school in America. In that chapter, I suggested five principles that ought to guide efforts to develop vision-guided Jewish education in schools and other settings. These principles relate to decoding the implicit vision in practice, creating readiness conditions for vision development, developing an everyday culture of practice that focuses on articulating and achieving clearly defined purposes in light of a larger philosophical view of the educated person, and much more. Since then, I continued this kind of work in a wide variety of settings in Israel, ranging from a single kindergarten class to a large-scale network of schools and colleges. I have also trained groups of Israeli and Jewish educators to undertake the same kind of work in their institutions. All of these efforts have been documented and summarized so as to produce further resources—both methodological and philosophical—for the benefit of others in the field.
In order for parents to play this role, they themselves need to work through their own visions of Jewish life and education. Here is one domain where the school can play a critical role.
These experiences have taught me that the five principles posited in the original chapter in Visions are very effective, but that it is difficult for institutions and professionals to understand and use them. It is not something that happens just by reading my chapter, or even by taking a year or two to study books and articles such as those produced by Fox's students and the Visions Project. That would be like training to be a surgeon without actually doing any surgery. To be capable of basing living institutions of Jewish education on a profound vision of the educated Jew, leaders must also have guided field opportunities in which they can learn how to implement all that they have studied in the seminar room while working on their feet. As well, they must maintain ongoing discourse with other professionals who are doing the same, so that they can learn from each other and together develop a growing field of expertise.
Moving in this direction necessitates a serious commitment to developing vision-guided practice both at the institutional and professional level. However much community and professional leaders are convinced by the case for vision, in order to act upon it, they must take the next step of committing time and resources to developing vision-guided practice. Beyond necessitating leadership, courage, foresight on their part, they must be concerned for the substance of Jewish education over and above all else. This is one reason for my having somewhat retracted from the term "vision." For many people, that term signifies something that is much less demanding, like a "visioning process" in which a few people get together for a few meetings to articulate some common aspirations in terms that are either too high in the air or too close to the ground to generate Jewish education that can truly make an impact. As I see it, that's cheating. You cannot buy or plan substantive Jewish education the way you would make a decision at a town hall meeting or develop a five year plan for your business or organization.
Another lesson that may result from this all this work is that vision cannot be developed only at the school level. Schools are so busy trying to get through the day, the week, the month and the year that they do not really have the capacity to take on many of the challenges of articulating larger purposes and devising means and methods to attain them. Resources also need to be invested at the level of the central offices of larger networks and organizations. RAVSAK needs people whose job description it is to develop a profound portrait of "the educated community Jew," pedagogies for the education of learners in light of such a portrait, and methods of helping local community schools work with these products. It takes a whole community to produce Jewish education based on a vision of Jewish community.
Tell us what's going on with the project today.
The Mandel Foundation decided to refocus the work of the Visions Project on the central item on its agenda: the development of educational leadership for Israel and Jewish communities worldwide. The Foundation has consequently transformed the Visions Project from a separate and independent entity to one that has been fully integrated into the larger infrastructure, leadership and work of the Mandel Leadership Institute in Jerusalem. In this capacity, the former staff of the Visions Project work closely together with MLI's other staff members, fellows and graduates in developing methods of training educational leaders to develop and work with visions of Jewish or Israeli education as well as in tackling topics on the Jewish and Israeli agenda that challenge such training.
Currently, work in the first area is in developing a pedagogy of long-term, one-on-one "tutorials" for educational leaders that focus on their development as vision-guided practitioners. In the second area, the focus is on confronting the challenges posed by the diversity of Jewish and Israeli society to their educational visions. While diversity is the reality in Israel and Jewish communities around the world, neither have developed visions of education that truly address that reality or build upon it as a positive and meaningful aspect of Jewish and Israeli life. It is much easier to emphasize solidarity based on an imagined lowest common denominator than it is to be equal to the complexities of Jews of different backgrounds getting to know each other and live together. How much more is this the case when we are speaking of relations between Jews and non-Jews. My aspiration is that this kind of work will enable MLI to emerge as a center and model of excellence in the field of educational leadership not only in the Jewish and Israeli contexts, but also in the world at large.
Where can the field of vision in Jewish education go from here?
The work that the Visions Project undertook in its prior framework has generated much interest and activity. New initiatives and collaborations emerge almost every day. My hope is that the various leaders who have become committed to this agenda can respond to the needs of the growing field through the publication and dissemination of their work and by creating frameworks in which we can learn from each other's experience and contribute to each other's expertise. Within this field, above and beyond my focus at the Mandel Leadership Institute on the training of vision guided educational leadership, I am personally engaged with the challenges of Zionist education, both in Israel and in the Diaspora. As well, I am working on how to deepen the impact of Jewish education through an emphasis on the theological underpinnings of Judaism.
Where should schools look to grow and improve over the next decade?
I think that Jewish schools need to work with parents in enabling them to take a greater part in the Jewish education of their children and in the life of the Jewish community at large. Philanthropic families and foundations have made critical contributions to Jewish education, but their intention has not been for day schools to be treated as service providers. The Jewish lives of learners and the vitality of the community at large will only be as strong as the commitment of the average Jew. If parents treat Jewish life as something important to them, this will enable the school to do its work more effectively with their children. But in order for parents to play this role, they themselves need to work through their own visions of Jewish life and education. Here is one domain where the school can play a critical role, but in order to do so, it must focus on this issue in a systematic way. If the price of this orientation is greater emphasis on "inreach" than on "outreach," so be it. Unless the core of the Jewish community is strengthened, it will not be able to radiate outwards.
What questions do you wish Jewish day school leaders would spend more time thinking about?
How can we get our trustees and board members to become partners in taking on challenges that relate to the substance and content of our programs? How can we reorient our school culture, staff, and program of formal and informal study so that the worldliness and depth of being a Jew comes across stronger than aspects that are narrow and provincial? Why must a learner be part of a community altogether—isn't it enough to be a liberal individual who can construct his or her identity however he or she chooses from out of a smorgasbord of possibilities? ♦
Dr. Daniel Marom teaches at the Mandel Leadership Institute in Jerusalem and is co-editor of Visions of Jewish Education. He can be reached at [email protected].
Return to the issue home page:
Image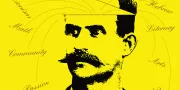 Summer 2010