Music Education in Jewish Day Schools
Music Education in Jewish Day Schools
Daniel Henkin
Jewish educators need to start by considering the value of music education in a day school curriculum. First, music is an integral part of our heritage. From the Levites in the Temple, Torah cantillation, and the sing-song of yeshiva study to chazzanut and Jewish composers of high and popular music, Jewish culture and tradition have always been nurtured by the wellsprings of musical inspiration. Second, studies suggest that music holds great value in cultivating a range of good outcomes in students, from self-discipline to fine motor skills to superior mathematical aptitude. Third, most people believe that music is inherently valuable and should be taught as a subject in its own right. From the earliest age, children are drawn to music; schools should help cultivate this innate musicality with all means available throughout their education. The level of music education, therefore, is a good index to a day school's Jewish and cultural education overall.
Let me offer some observations about where Jewish day school music education is today. In the youngest grades, one can find extensive and innovative examples of music learning and music making. Music plays an important role in many Jewish day school curricula at this early stage. In many schools, young day school students sing, listen, play, study, and create music. It represents the point of greatest overlap with music curricula found in public and secular private schools that aim to teach music according to government-mandated standards. (To learn about those standards, go to the website of the National Association for Music Education: http://www.menc.org/resources/view/the-school-music-program-a-new-vision.)
However, as students move into middle school, there is a growing disparity between day school and non-day school music curricula. The dual-curriculum demands of a day school, and the need to fit more subjects into a given day, often squeeze music out of the mix. Jewish day schools frequently do not hire enough music educators, or hire music educators who are unaware of the music opportunities being offered in the non-day school settings. The middle school years also pose a new challenge to music educators. Whereas early grades are more likely to have a homogenous group when it comes to the child's music education, by the fifth or sixth grade there is much greater differentiation in students' musical ability and knowledge, though not in their interest. Many day schools cannot meet the challenge of a differentiated music education for this age group.
By the time one reaches the high school grades, the disparity in musical knowledge and ability (again, not musical interest) between those students who consider themselves "musicians" and those who consider themselves "non-musicians" is at its greatest. In addition, the number of students who consider themselves "musicians" typically shrinks, as students who had once studied music privately do not continue into their high school years. From a curricular standpoint, many Jewish high schools offer the kinds of music experiences that resemble more closely Jewish lower school curricula than non-day school high school curricula. At a time when teenagers demonstrate a high level of musical interest, it is unfortunate that many Jewish high schools do not offer the range of music experiences that their non-Jewish counterparts frequently do.
Nevertheless, the landscape is not uniformly bleak. Some Jewish schools succeed in providing more extensive and varied musical experiences in the middle and high school years. Many day schools offer band and chorus options at both the middle and upper school level. Often, the particular interests of a music teacher, or even a group of students, will dictate the courses or clubs offered. These have included the more typical chamber music or jazz ensemble to less conventional offerings like a barbershop quartet and a percussion ensemble. Some day schools have instituted "conservatory-style" programs, with private instrumental instruction.
In non-performance areas, several Jewish high schools offer music appreciation courses that introduce students to key areas of Western music literature and theory. Some offer courses in honors or Advanced Placement music theory as well. A few day schools offer courses in choral arranging, where students use their knowledge of music theory to write original harmonies for choir songs that are then performed by the school's ensembles. One school teaches students to write and perform original fugues as part of their music history curriculum.
As a choral director, I have seen a resurgent interest in vocal music in particular at the high school level, both in terms of solo and ensemble singing. Influences as varied as American Idol, Hazamir (the national Jewish teen choir), and contemporary a cappella have come together in recent years to generate renewed interest in singing at many Jewish day schools. At the same time, a stricter adherence to kol isha (the Talmudic prohibition of listening to a woman sing) in many Orthodox high schools has made mixed choral singing—and in some cases, choral singing altogether—a thing of the past.
While acknowledging persistent challenges of time and funding, schools still have numerous options for improving their music programs. For starters, Jewish day school music educators can learn a great deal from their non-day school colleagues; they should visit other schools for inspiration and ideas to take back with them. For schools looking to broaden their students' music education, one approach can be interdisciplinary, such as using musical rhythms to help teach fractions in a lower school mathematics class, or studying and performing the music of a particular culture in a high school social studies course. Other opportunities include using local talent to supplement current music offerings. A parent musician, a vocal or instrumental teacher, or a community conductor could be brought into the school to offer on-site instruction. Through a combination of scheduled classes and extracurriculars, day schools should maximize their own and their communities' resources in developing their students' talent and passion for music. ♦
Daniel Henkin is Director of Music at the Ramaz Upper School in New York City. He can be reached at HenkinD@ramaz.org.
Return to the issue home page:
Image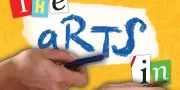 The Arts in Jewish Education
Summer 2008