Sukkot and STEM learning collide at Community Day School
KC Topics:
Middle School, STEAM, Middle School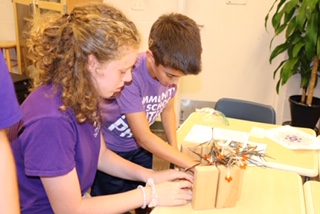 by Melissa Werbow
The STEM classroom at Community Day School was recently filled with the buzz of students talking excitedly, mixed with shouts of triumph and groans of despair. There was a pulse of excitement in the air and multiple students were flitting around the room.  This untraditional scene wasn't an out-of-control classroom but rather a group of middle school students participating in our "Sukkot Breakout."  
This type of programming builds on the recent trend of Escape Rooms. An escape room is an interactive physical and intellectual game. A group of players is (willingly) locked in a room with a theme and a guiding story, and the participants have to solve a series of puzzles and riddles in order to escape. There is a time limit (usually 60 minutes) to escape.  
Educators around the country have come to realize how educational escape room programming teaches students to work as a team, reinforces content, sharpens problem-solving skills, and pushes them to do higher-order thinking. At Community Day School, it also offers a memorable way to expose our students to Jewish holidays, traditions and history. 
"In the educational industry, the big focus in 21st century learning is the four C's — creativity, collaboration, communication and critical thinking," says Ann Brucker, game developer and community manager with Breakout EDU. "They are actually using all of those right now."  
To adapt the immersive world created in an Escape Room for classroom use, most teachers make their programs breakout style: rather than trying to escape out of a room students are trying to break into a box or boxes. Twenty-first century skills are reinforced when students have to assess a situation to determine which action to take next or how to apply the information they've learned in class to a new situation.  
In the adult world, we are rarely given a worksheet, with blanks to fill in, that require skills from a single subject area. We are much more likely to encounter complex thorny issues that we must untangle ourselves from by using skills from across the disciplinary spectrum.
Community Day students were given the challenge to unlock four boxes around the room to gather the four elements they needed to build a sukkah: roof branches, walls, a table and chairs, and decorations. Each lockbox required a different kind of code to unlock it, such as a directional lock, a word lock, a three-number code, and a four-number code. Students needed to uncover and solve puzzles around the room that would help them decipher the codes. Tasks included everything from tracing the journey of the Israelites in the desert to using the Mishna to sort pictures of kosher and non-kosher Sukkot.  

"The concept of meaningful gamification is not to provide external rewards, but rather to help participants find a deeper connection to the underlying topic," says Scott Nicholson, a professor of game design and development at Wilfrid Laurier University in Ontario, Canada.  
At Community Day, we are always seeking new and fun ways to add a Jewish touch to the multicultural celebrations taking place in the wider community as well as looking for creative ways to showcase Jewish holidays in a way that is meaningful to students of all faiths. By helping students to explore Sukkot through a fun, experiential game, we enable all students - both Jewish and those of other faiths - to connect with the holiday.