Student Walkout for Action
Student Walkout for Action
Evan Horwitz, Niomi Markel, Elizabeth Mehr, Jonah Flamm
Like many students around the country, we felt moved to action after the shooting at Stoneman Douglas High School. Students just like us had been killed. A school just like ours had been turned into a battleground. As seventh graders at Portland Jewish Academy, we had been raised with the belief that we were being listened to, that our voices mattered. It was because of that sense of empowerment that we began to plan a school walkout to protest the lack of gun laws in this country that allowed for the shooting to happen.
Our seventh grade class planned the walkout for our middle school, but this event was eventually expanded to include fifth graders, teachers and community members. In addition to protesting the lack of gun laws, we also wanted to focus on memorializing the 17 students killed in the shooting at Stoneman Douglas. We led our group out of the building and to a field nearby. There, our class shared stories of the victims, their lives and their pasts, and imagined what their futures should have been. After we finished this memorial, two of us spoke about establishing gun laws in order to prevent gun violence and in hopes of fully preventing future massacres.
On March 18, 2018, we joined millions of students across the country in walking out of school to promote common sense gun laws. Our reflection and planning continues today. We know that we need to be the change we want to see in the world. For thousands of years, others have done all they could to stop Jews from succeeding. This time, the matter we were protesting affected our lives directly. For people who had already lost loved ones to school shootings, it was too late to change anything. But we hoped that by protesting, we would be able to change things for future students in America.
At our school, we are taught from a young age to be activists. In our humanities classes, we engage in active discussions in which we challenge society's shortcomings and talk about how to make the world a better place. By protesting the lack of gun laws in our country, we hoped to pursue peace and make the world a better place.
We memorialized, we marched, we protested.
However, not much has changed yet. This is a call to action. Throughout school, we have learned about the concepts of ohev shalom and rodef shalom. An ohev shalom is someone who loves peace. Loving peace is not a bad thing; however, an ohev shalom does not actively pursue peace in the world. A rodef shalom, on the other hand, is someone who not only loves but pursues peace. At PJA, we are taught to be a rodef shalom.
We are taught to lead.
Change is a challenging and slow process, and it may take awhile, if ever, for someone to see the change they had long worked for. We, as Jews know this all too well. However, if one does not actively pursue what they believe in, change will never come. So however inconsequential you believe your activism may be, know deep down that one day it could change the world.
Return to the issue home page:
Image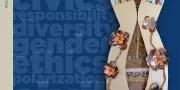 Winter 2019