On My Nightstand: Books Prizmah Staff Are Reading
On My Nightstand: Books Prizmah Staff Are Reading
Prizmah staff
Underground Railroad
Colson Whitehead
Colson Whitehead's courageous novel takes us on a harrowing journey, in search for freedom, through the antebellum South. Our protagonist, Cora, begins her life as a slave in Georgia, and with the help of a new friend and fellow slave, Caesar, they bravely set out in search of the Underground Railroad—and the hope of a free life.
This book is terrifying, engrossing, optimistic, disturbing, enlightening and chilling—all at the same time. An important portrayal of American history, this is a must-read book.
Erin Tasman

The Book Thief
By Markus Zusak
This book has spent 10 years on the New York Times Bestseller List and is the winner of the National Jewish Book Award, and after reading it, I understand why. The story takes place in Germany, starting in 1939, and is told from the perspective of an unexpected being, Death. Death encounters a young girl, Liesel Meminger, when she is on her way to live with a foster family, since her mother can no longer take care of her due to life circumstances and the poor conditions for the average citizen in Germany at that time.
Liesel's foster father, Hans Hubermann, is a WWI veteran who befriended a Jewish man, Erik Vandenburg, during the war. Erik's son, Max Vandenburg, unexpectedly shows up on their doorstep one night, and the family ends up taking this young Jewish man into their home to hide and care for while the country sinks further into the Holocaust.
The characters are so well developed that you feel like you know them and become invested in their lives. It is hard not to emotionally feel for them as the events of WWII evolve. I have never read a book with such an interesting narrator.
Lauren Stanley
Unreasonable Doubts
By Reyna Marda Gentin
Liana Cohen is at a crossroads in her life. Once a young and idealistic public defender in New York City, she's now experiencing a professional crisis of faith, questioning the innocence of most of her former clients and the purpose of her work. She's been dating corporate lawyer Jakob since law school and has recently become interested in Jewish life on the Upper West Side of Manhattan. Jakob is convinced that Liana will make a perfect life partner; Liana isn't quite sure and has told her friends that she's giving herself until her thirtieth birthday to decide whether or not to marry him.
Gentin really did spend several years as a NYC public defender, and her ability to convey the nuances and ambiguities of the job is evident throughout the book. Liana's friend and workmate, Deb, understands that Liana needs to work on a case that will reinspire her passion for the work. Deb hands her an appeal case involving a convicted rapist named Danny Shea, who is young, handsome and unusually articulate. He insists that he is innocent, and Liana starts to believe him. She becomes obsessed with Shea, on both a professional and personal level.
For a first-time author, Gentin has a unique ability to tell two concurrent stories—one of suspense, the other of one woman's attempt to balance career, tradition and family. It is an engaging story about coming of age and of maturity.
Dan Perla
 
Nine Perfect Strangers
by Liane Moriarty
If you enjoy books with multiple storylines and points of view, a plot where a bunch of random characters are stuck somewhere and you get to watch them interact, and plenty of good old drama, then definitely read this.
The book features a colorful cast of nine characters: a middle-aged romance writer, a gay family lawyer, a divorced single mother, and a couple and their daughter dealing with a tragedy, to name some—who come to Tranquillum House, a health resort that promises to "transform their lives." They are indeed transformed, but in a very different way than they imagined. Characters are very well developed, and even the antagonist is fun to read about. The book is funny, thought-provoking and so scandalous, I couldn't keep from making my shocked face while reading.
Esther Muslimova
Return to the issue home page:
Image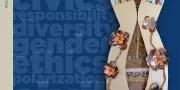 Winter 2019