Listening for the Grace Note: Finding Harmony Amid Cacophony
Listening for the Grace Note: Finding Harmony Amid Cacophony
Students from Gann Academy
2018 marks the 25th anniversary of the NAIS Student Diversity Leadership Conference, a multiracial, multicultural gathering of upper school student leaders (grades 9-12) from across the US and abroad. SDLC focuses on self-reflecting, forming allies and building community. Led by a diverse team of trained adult and peer facilitators, participating students develop cross-cultural communication skills, design effective strategies for social justice practice through dialogue and the arts, and learn the foundations of allyship and networking principles. In addition to large group sessions, SDLC "family groups" and "home groups" allow for dialogue and sharing in smaller units.
Abigail Bala
Class of 2020
What does it feel like to be surrounded by people who have similar experiences to you?
At SDLC, the most powerful experience I had was in the affinity groups. I went to the multiracial group, and I really valued the time I spent there. We talked about our lives and identities, and I ended up meeting many multiracial Jews. It was a really moving experience for me to talk with them.
At school, I often feel like I'm alone in my experiences. I can talk and explain things to my white peers as much as I am able, but no matter how empathetic they are, they can't really understand what I'm going through. That's okay, but it can be hard for me.
A lot of people have trouble understanding or accepting my identity as a multiracial Jew. At school, people will only acknowledge my brownness when it is convenient for them—because I'm white-passing, teachers can get away with that. A lot of times in my Jewish community, my multiracial identity gets looked over. In affinity group, we talked about how it is important for us to not accept that and make people acknowledge all of our identities.
In all, what I'm taking away from my time at SDLC is that my many identities are not separate pieces of who I am. I am a multiracial Jew, not a Jewish person and multiracial person. I don't know if I could have come to these understandings if I wasn't surrounded by multiracial Jews.
Naomi Ravel
Class of 2020
How do I identify before and after SDLC?
Attending a predominantly white school is especially difficult for a person of color. The added stress to me is that I'm also Jewish on top of my many cultural identifiers. Being at Gann has let me explore my Judaism in ways that I'm not always able to do with the color of my skin.
Attending SDLC for the first time last year was eye-opening for me because I could connect with my Nepali heritage. This year, I wanted to explore the Israeli and Puerto Rican sides of my family since they are also important parts of my identity. I struggled to find a balance between all three cultural identities.
At SDLC this year, I learned that having the same amount of knowledge for each culture connects me deeper to my own personal and unique identity. Also, this year at SDLC I had a better appreciation for the South Asian affinity group. Within the affinity group, I met many boys and girls who wanted to educate me on my Nepali culture. I was unaware of the day-to-day culture that Nepali kids experience. I was excited for them to teach me about the music, history and politics within the country.
I'm thankful to be able to attend SDLC for a second time and learn even more about myself and others.
 
Laura Bogorad
Class of 2019
What does it mean to be a person who looks white/is white but is also part of a minority group?
When I began preparations to leave Gann and go to the SDLC, I felt apprehension along with my excitement. While I was incredibly excited to travel to Nashville with 1,600 other high school students to tackle the issue of diversity, I also felt that I might not belong. I am Hispanic, but I am also white. If this was a conference on racial diversity, what right did I have to go as a white person? Would I fit in?
When I first arrived, I was surprised by how many white passing people were at the conference. But more surprising than that was how easily I felt comfortable. The people I met and talked to were supportive and kind. One theme of the conference was love, and when the other students listened so attentively to my stories, I felt validated.
I learned how diversity means more than race. It encompasses socioeconomic class, gender, sexual orientation, ethnicity, ability, age, family structure and religion. In my opinion, having a diverse conference means more than racial diversity; it means bringing together people that speak to radically different experiences that still support each other.
Being a Jewish person also added to my experience of the conference. At many times looking around a room with many Jews in it made me feel a sense of belonging. At other times I felt my identity challenged. When the conference brought a speaker challenging the legitimacy of the state of Israel or when people screamed "free Palestine" from the back of the conference hall, I felt uncomfortable. I think there is still work to do in providing a space that is entirely inclusive.
SDLC taught me to entirely accept my complicated identity and see there will always be people that will support me and challenge me.
Zoey Zilber
Class of 2020
How does diversity affect the learning and practice of Judaism?
Over the years, Jews have become more diverse. Through assimilation, Jews have slowly adopted the traditions of their neighbors. They may marry outside the religion and celebrate Jewish holidays in their homes alongside non-Jewish holidays. They may even take on the custom of decorating their house in lights with the colors of the tallit and Magen David instead of Christmas colors.
They are also less cohesive as a group, which affects how Jews learn and how they practice their Judaism. In the US, there are many different denominations of Judaism and degrees to which people practice them. Travel also causes diversity within Jewish culture. American Jews who go to France or Israel or Russia meet Jews who might eat different foods on Shabbat or sing different songs. All of this creates a more diverse Jewish population when they bring what they have eaten or sung back to the US.
From another angle, while there is more diversity among Jewish people, most Jews are predominantly white. For those of us who are non-white, practicing Judaism can be more difficult. For example, when I—someone who identifies racially as Chinese—correct someone on a Talmudic law during Jewish Studies class, my point has often been rejected or treated more skeptically than a white peer's. Additionally, when I once put on a kippah jokingly, a friend of mine said, "That looks so wrong."
At SDLC, I learned that interactions like this, though started with good intent, both feel wrong and are wrong. These are moments where I need to express my discomfort because saying that in any context isn't acceptable. Therefore, as a non-white Jew, the lack of diversity makes it harder to learn and practice Judaism.
Return to the issue home page:
Image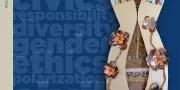 Winter 2019