In the Issue: In These Times
In the Issue: In These Times
Elliott Rabin, Editor, HaYidion
May you live in interesting times. —apocryphal Chinese curse
In these times, this famous curse seems to be visited upon us. No matter where we live, the people we befriend or the shul we daven in (or not), we cannot help but be touched by the currents that have been running through our social and political worlds. The turbulence has swept over not only the United States but countries around the world as well. No one is an island, and no country or community is immune.
This issue of HaYidion departs from all of previous ones in its focus on contemporary matters. Usually, HaYidion explores questions of education, pedagogy and day school management that are more or less timeless, altered only by a new perspective or innovation every few years. This issue starts, instead, with the conversations all of us are having—at the water cooler, over the dinner table, during soccer games. Everywhere we've gone, day school leaders have told us that they are addressing these changes that are washing over us with a volume rarely ever seen before. It's time, they said, for HaYidion to wade in.
Schools are, by their very nature, lower c conservative institutions. They are places dedicated to passing on a society's knowledge, skills and outlook to the next generation. They work to preserve the values and traditions of the community in which they are embedded. Despite ringing bells, time in schools is measured over a long span of years, describing the arc of learning from pre-K to high school, and the impact of an education on alumni's lives. They aim to be always proactive, not reactive, to frame issues in a way that empowers students to act with intelligence, thoughtfulness, consideration.
In these times, such qualities are invaluable for helping people keep their heads above water. Schools provide the vital knowledge and perspective to help students place particular events in larger contexts, informed by guidance from timeless Jewish sources. Jewish schools in particular are attuned to the supreme value of community—of kehillat hakodesh and kenesset Yisrael; they understand the long historical ride that our community has traveled together, the ways that it has often been buffeted from without and within. And they know the importance that our tradition holds of working with others, near and far, to achieve the collective good of peace and prosperity for all.
We begin with articles addressing challenges that can tear at the fabric of a school community, issues of power relations and maintaining civil discourse. Freundel frames the discussion by exploring contemporary challenges to civil discourse and offering strategies for addressing them. Cohen and Fridman consider one prevalent rhetorical strategy that undermines constructive board conversations. Groen describes a school's campaign to embrace more families that cannot afford day school, and Corvo presents a lesson that enables students to map the diversity in the room. The next few articles go inside the classroom: Cook and Kent offer teachers guidance to puncture power dynamics and empower student voice; Levy gathers advice from teachers in managing conflicts among students; and Rose balances the opportunities and challenges of teachers serving as role models.
The next section focuses on the education of civics, of the larger systems and structures in our society. Tweel and Bressman propose three pillars of civic awareness that schools should teach. Mann reveals faculty PD to raise awareness of racial issues, and Apter discusses how he approaches these issues in the classroom. Ben-David, Cook and Krieger portray an administrative initiative to create support structures for student diversity. In an excerpt from her memoir, Blumberg recalls the experiences of her day school students with a homeless man whom they encountered near their school. Ament and Lookstein, in the first of three pieces that look at responses to the Parkland massacre, present their school's solution to the challenge of standing for values with a school community that has significant fissures. Soskil depicts how his students' encounter with Jewish students in Hungary gave them a new perspective on their own society.
The school spread presents programs and initiatives that schools have undertaken to address some of these contemporary issues. In the final section, authors examine issues of gender in day schools. Feldblum argues for increasing opportunities for women to rise to leadership positions. Schwartz and Ladon show how an Israeli boys' school uses talmudic texts to spark conversations about Jewish notions of masculinity. Nadler suggest ways to cultivate self-confidence and passion for STEAM among girls. Ablin proposes a harmful paradigm describing the way that boys are treated in our culture. The next two deal specifically with sexuality: Herskowitz surveys a schoolwide initiative for LGBTQ inclusion, and Mirvis (reprinted) offers a groundbreaking approach to the subject rooted in Jewish values.
By keeping to our mission, vision and tradition, may all Jewish schools give students the wisdom and strength to weather these times with dignity and civic-mindedness, and the disposition to work with others in service of the highest values of Judaism and our country.
Return to the issue home page:
Image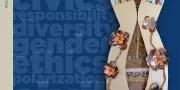 Winter 2019