Creating a More Welcoming and Inclusive Space for LGBTQ Youth
Creating a More Welcoming and Inclusive Space for LGBTQ Youth
Jordan Herskowitz
At Golda Och Academy, we have made strides over the last 10 years to make our school community a more welcoming, safe and inclusive environment. Yet while students and faculty felt that they were open to all, regardless of sexual orientation, we had no students or faculty who were comfortable being out at school.
In 2012, a student whose sibling was gay started a Gay-Straight Alliance (GSA), a student-led club that provides a supportive environment for LGBTQ youth. The GSA began by running campaigns around the school focusing on speaking kindly to one another and not making derogatory, anti-gay remarks. This soft approach of talking about LGBTQ issues in school met with acceptance, but the club members had higher ambitions: to get all students talking about ways they could help create a more inclusive learning environment.
The next year, I directed The Laramie Project, a play by the Tectonic Theater Project about the brutal attack and murder of college student Matthew Shepard because he was gay. Aside from being a powerful piece of dramatic literature, the production allowed our school to send a bigger message to our community and confront these issues in a creative way. GOA was the first Conservative Jewish day school to put on this production. We made sure our impact was seen and heard widely. We included messages from the Association for Jewish Theatre, the Tyler Clementi Foundation, Straight but not Narrow and the mayor of Jersey City, all of whom offered their congratulations and appreciation to GOA for putting on this production.
The performances were paired with talkbacks to discuss the play's themes and how they relate to the LGBTQ inclusion work we had started working on at GOA. These panels included gay GOA alumni, Jewish community leaders and rabbis, and representatives from local LGBTQ organizations. Making the performance an educational experience for the audience helped support our school's inclusion efforts.
In order to make bigger strides and lasting change, we realized we needed outside support beyond that of our administration and board. Although we had a few LGBTQ parents and faculty, we had no out students. Our administration was troubled by this juxtaposition. Why were our inclusion efforts not correlating to students feeling safe to come out in school?
Through connections made after The Laramie Project, our school was accepted into the Keshet-RAVSAK School Leadership Project, which gave us a year of support to make concrete changes for LGBTQ inclusion. By partnering with Keshet, an organization that promotes LGBTQ equality in Jewish life across a variety of organizations, we were carefully guided as to how to make this goal possible.
Our work with Keshet began with an institutional self-assessment, which asked us questions about our educational programming and organizational policies and culture. This inventory was helpful for our school to see that our programming was starting to be inclusive and celebratory of LGBTQ, but our policies and culture were lacking. Over the next year, we began looking at these pieces both individually and within a larger school context. We set up an LGBTQ Faculty Inclusion Committee, which included LGBTQ faculty and allies—teachers, counselors and administrators—from both our lower and upper school campuses. Through the faculty lens, we learned that a lot of what the administration thought was apparent in our inclusion efforts was not clear. A new focus became bringing the faculty into the work so that they became strategic partners in making classroom spaces safer and more welcoming.
Our yearlong work with Keshet included a summit, where we met with other Jewish day schools to discuss these issues and learn how schools are approaching them. Keshet paired us with a coach who checked in with us monthly and offered advice. Keshet's manager of education and training made a few site visits throughout the year, which included a parent education night entitled "Raising Children in a Community Committed to Inclusion and Respect."
Through the School Leadership Project, we changed our mindset from a reactive one ("What do we do when...?") to a proactive one ("What can we change now to make students/faculty/parents more comfortable in the future?"). We started with updates to our policies, like making our dress code gender neutral, and then expanded to physical changes, by adding all-gender bathrooms and "Safe Space" signs outside the door of every classroom. The work was accompanied by educational sessions with our community. Keshet helped us manage all of these moving parts to make sure our changes would be sustainable and long lasting.
For the most part, these changes met with little opposition. A few students and parents voiced concern when we participated in the Day of Silence, the Gay Lesbian School Educational Network's national program, in which students opt to take a vow of silence to represent the silencing of LGBTQ students. These moments were difficult and tested us, but our school remained grounded to the goal we originally set: to make GOA a more welcoming and inclusive community to all, no matter one's sexual orientation or gender expression.
A culminating piece of our inclusion work came at the start of last school year, when a high school student came out as transgender. In an email to her grade, she wrote: "As I come out to you with this information, I want you to know that I am not changed. I am still the same person I was before, but I am attempting to achieve a more comfortable environment for myself."
The student navigated her new identity within our school on a day-to-day basis. Together with her parents, our administration worked on finding ways to make her comfortable while continuing our efforts to make the school inclusive for all. We found a big hurdle to be using proper language and terms in relation to the student's gender expression, so we had a faculty learning session to debunk and educate each other about these terms and discuss ways to make both this student and other students questioning their identities feel comfortable inside and outside of the classroom. In preparation for our school's senior spring semester in Israel, we met with students and parents to go over what accommodations, like rooming, would be made.
We are blessed that our Jewish teachings and school values allowed a student to come out in high school and become more comfortable in her own skin. All children have journeys of self-discovery, and it's through the support of our entire community—students, parents, faculty and staff—that they find their true selves. The student's decision to come out provided a powerful moment for our school, and we are hopeful that our inclusion efforts continue so more students feel safe to express their true, authentic selves.
Return to the issue home page:
Image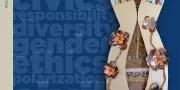 Winter 2019