Connection and Shock: Expanding Students' Jewish Horizons Through International School Partnerships
Connection and Shock: Expanding Students' Jewish Horizons Through International School Partnerships
Rabbi Mordechai Soskil
All teachers desire to stretch their students' thinking so they can imagine a world bigger than the one they occupy each day—so they can see the next horizon. The golden ring of teaching is the realization of those moments when you know you've changed your students, when you've created ripples in the ponds of their minds. Through the partnership Beth Tfiloh Dahan Community High School has with the Scheiber Szandor Gymnazium (SSG) in Budapest, Hungary, through SOS International, we have been blessed with just those types of experiences.
SOS International is a nonprofit organization dedicated to enriching next-generation Jewish identity and values through international exchanges. They build ongoing partnerships between American and European Jewish day school educators, students and community members, helping them embrace their Jewish identities and rejuvenate Jewish communities around the world.
Our partnership with SSG has included four exchanges. In the first two rounds, teachers spent a week in the partner school learning, observing and teaching. The week included touring the host city and a tikkum olam project. In the last two rounds, the teachers returned to their partner schools but with a group of carefully selected students. These students became genuine friends as they went about learning, touring and teaching younger students in the partner school.
But what does it look like in real life when Jewish teens who live on two continents find their Judaism as a primary point of intersection?
On the Outside Looking In
Learning about the context of their Hungarian peers' lives has had a profound impact on our Beth Tfiloh students. One of the ways it has shaped their view of the world is by seeing themselves, if only just a bit, as outsiders. In the cocoon of our robust Jewish community in Baltimore, our students often feel that the whole world is just like they are: socially comfortable in their Jewishness, and politically secure as members of their national community. What a shock to meet teens who dress as they do, and enjoy music and video games and sports as they do, but feel uncomfortable identifying as Jews.
A couple of anecdotes drove home this point. One of the first evenings that we were in Budapest with the teens, we all went to an escape room. It was a great opportunity for the teens to spend time together and work together. One of the goals of the trip was to help foster Jewish pride and strong Jewish identities among the Hungarian teens. Of course, the best way to influence a teenager is with more teenagers, so we brought a dozen American teens who, while all diverse in their observance of Judaism, share a strong Jewish identity and great pride in who we are.
Those goals are most keenly worked on in the space between programming when the kids spend time with each other; thus the escape room was an ideal setting. After the activity, the teens clustered in the courtyard outside and noticed a military surplus type store. A few went in to explore the shop while waiting for their peers to gather. They exited in just a moment as they realized that it was a store dedicated to Nazi paraphernalia and regalia. It was quite unsettling. The shopkeeper's reaction to boys in kippot entering his shop shook them up. His glare of mixed disgust and anger was a new phenomenon. The conversation with their peers that followed gave them a much better sense of what the facts on the ground are for Jews in Hungary.
We spent much of the afternoon the next day walking through the beautiful city of Budapest, learning about its history and the Jewish community that was there and what is there now. In the evening, we were walking towards the Balint Haz, the JCC of Budapest building, where we would all eat dinner together. The teens were doing what teens do as we walked the mile or so, clustered in groups talking and walking and laughing as we shepherded them along. It was all very age-appropriate and what experienced teachers have seen dozens of times.
We passed a government building with a few soldiers stationed outside—a scene not so uncommon to my American students, most of whom had been to Israel before. And so naturally our students said something to the effect of, "Thank you for your service." They received only dirty glares in response (and not because they were talking English). Their Hungarian counterparts were astounded—first that our boys were walking so comfortably with kippot, and then that they would talk to a soldier. Jews can't do that in Hungary. The visceral and immediate response of the Hungarian teens provided a much more tangible understanding of their world than any article or lecture could have done.
Learning the Differences
In debriefing our teens, we learned a lot about how they experienced the week in Hungary. It was no surprise to learn that the things that impacted them most were the conversations they had with their peers, not the formal programming. Daryn shared that one of the most important moments for her came during a conversation late on Friday night of our Shabbaton, in the quiet solemnity of leil Shabbat and the privacy of her shared hostel room. "It was quite a shock to learn that these kids, so much like us, who go to a Jewish school even, can't be proud of being who they are. It's hard to grow Jewishly and think about keeping Shabbos and be proud of who you are when the whole society is trying to make you be uncomfortable and lose that pride," Daryn said.
For Rikki, the point was driven home on her very first day in Budapest. We were on a bus going from the school to a lookout over the Danube on a beautiful spring day. But the moment was colored by the running commentary of her new friend Abel, who kept pointing out places he had personally experienced anti-Semitic remarks. Even more distressing for Rikki was when our Hungarian friends came to visit us in Baltimore. Emese, an SSG senior, was amazed to learn that Rikki's dad could just wear his kippah all the time and nothing happened. Rikki said, "For my friends in Hungary, being Jewish is something they have to think about all the time because it scares them. But here in Baltimore people are like, 'You're Jewish. Ok, I'm Christian. Next.' I never really thought about what that means to me here until I saw it through Emese's eyes."
Undoubtedly, this experience will continue to impact our students in many ways. For them, the world is smaller, and yet somehow, their sense of the Jewish community is larger. Their thinking about who is part of Klal Yisrael has expanded.
But the lessons go beyond that. Joseph perhaps said it best: "Realizing what it is to be a Jew in Hungary makes me much more grateful to be a Jew in America. It makes me realize how comfortable things are here, and that makes me think about who else can be part of our community. How do we make sure that we are making Judaism seem like something anyone can be a part of? My friends in Hungary used to think that Judaism was 'either you have to be a black hat-wearing rabbi or do nothing.' But now they see there are lots of ways to practice Judaism, and everyone has to find a way for themselves. How do we make sure that Jewish communities in America are reaching out to find people that feel like outsiders and bring them in?"
In the end, learning about another Jewish community through the eyes of their peers has helped our teens learn more about themselves and their community.
Return to the issue home page:
Image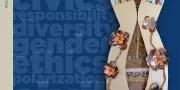 Winter 2019