Community Projects: Teaching Students to Use Their Power for Good
Community Projects: Teaching Students to Use Their Power for Good
Jennifer Coxe
Commemorating the 20th anniversary of the genocide in Rwanda set off a chain reaction in our school that systemically changed the way we inspire and empower our students to use their Jewish values and text study to become changemakers in the world.
In the summer of 2014, a small group of Schechter administrators and educators traveling to the East African country listened to the unimaginable pain a divided, destroyed nation had undergone. They also witnessed the miracle of those whose side had once murdered the other learning how to live together again through a process of reconciliation.
The experience compelled us to reexamine our fundamental responsibility as educators and to find a more authentic, meaningful way to connect students to the world beyond them. Through that, we sought to foster students' respect and appreciation for "the other," empowering them with the moral imperative to stand up and act for the purpose of creating a better world.
In 2018, Schechter became an authorized International Baccalaureate (IB) World School for the Middle Years Programme, having tailored this framework to our Judaic studies curriculum to help students connect their Jewish text learning and actions through mitzvot in a global way. Since then, we have designed and implemented a program that focuses on developing true empathy, a sense that although much of the world does not live the way that we do, we share a common humanity.
We've discovered that solely encouraging students to run "bake sales" or other one-off charitable endeavors often makes it difficult to ascertain what actually happens and whether our efforts result in helping others. The Community Project, however, brings together the spirit of chesed and tikkun olam, community service and action, and engages students in inquiry-based exploration that turns their learning into action.

Among this year's Community Projects:
Becoming mental-health advocates by raising awareness inside the school and greater community of early-adolescent depression through the creation of a public relations campaign.
Exploring and identifying alternative spirituality/prayer opportunities beyond the standard prayer service in order to make tefillah more meaningful and allow teens to connect with their spirituality and God.
Saving the lives of area homeless, neglected, abandoned, and abused animals through weekly work at a local animal-rescue shelter.
Regularly playing soccer with disabled children through an area organization that expressly focuses on inclusion through athletics.
Developing and launching a media campaign to raise awareness about LGBTQ issues among early adolescents.
Students use a detailed structure that includes templates, criteria and forms. Throughout the year, middle school faculty and staff supervise projects that align with their own expertise and interests, and every student or student team is assigned an advisor specific to the project. Advisors meet with students throughout the year to help ensure that the project topic satisfies legal and ethical standards of health and safety, confidentiality, human rights, animal welfare and environmental issues, as well as to confirm the authenticity of the work in which they engage.
One of the many compelling aspects of the Community Project is that it encourages students to reflect on their learning and the outcomes of their work. It also challenges them to collaborate and pursue service learning—key skills that help prepare them for success in further study, the workplace and the community. They learn not only the skills, attitudes and knowledge needed to complete a project over an extended period of time, but how to be effective communicators in a variety of situations.
Because these projects are student-centered, students learn to participate in a sustained, self-directed inquiry that inspires new ways of looking at problems and developing deeper understanding of their own power to make change in the world.
Return to the issue home page:
Image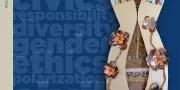 Winter 2019