On Board: Cultivating a Service Leadership Mindset
On Board: Cultivating a Service Leadership Mindset
Rich Levin, Jeff Bicher, Kelli Brogan
How do you create a sense that the board serves the school instead of acting from sense that it has power over the school?
Rich Levin
Chairperson, Committee on Trustees, Torah Day School, Atlanta
In many organizations, a cultural change is required in the board leadership to achieve a more effective cultivation of leadership. The following process gives boards a chance to create leadership that can meet and exceed goals.
Cultivation of a leader begins by discovering that a person has an interest. But that interest is not yet important enough for the person to step forward and risk time, energy and self-esteem for it. (Other reasons the potential leaders don't step forward: They don't have confidence they will be heard. They don't believe the organization is capable of change.)
After identifying potential leaders, start by asking them questions, watching if there is some topic or facet of the organization, some perceived need by the potential leader that sparks passion. Then feed their interest with more communication and interactions related to the interest, asking for thoughts, opinions and advice.
If the person is engaged, follow up with an invitation to talk to others who share an interest in the issue. Ideally, those conversations begin to include more people who are in leadership positions in the organization. In these conversations, you show respect and listen for the specific interests that would make the person valuable on a committee.
Then, discuss the person's interest with a committee chairperson. If there is an opening, make the formal connection. Those that actively participate and contribute value are offered a position on a committee, giving them the opportunity to grow into higher positions.
When an entire organization is of the mindset to identify, groom, nurture and promote talented leaders; when there is a conversation of developing future leadership in this way, an organization has unlimited potential.
Jeff Bicher
Chair, Board of Trustees, Hebrew Foundation School, Montreal
We start by ensuring that board members are accountable to the organization and are aware of their responsibilities. The board education highlights the individual duties that board members have—care, loyalty and obedience, among others. At the first meeting of the year, our head and I present our calendar of meetings, including a schedule of committee reports, discussions and items that will require resolutions. Discussions on items may require votes at subsequent meetings to give members time to reflect.
Sometimes board members get frustrated because as temporary owners we expect specific follow-through from professionals, and in some cases believe we can do it better. In such cases, the board needs to be reoriented to focus on adding value to the implementation strategy as opposed to directing our professionals to carry out specific tasks.
My role as board chair is often about balance and moderation. With respect to management, I help our lead professionals appreciate the value in and benefit of volunteer leadership while supporting them as they navigate the relationships with a board filled by their students' parents. From a trustee or governing body perspective, I seek to temper our board members' desire to micromanage the goings-on of the school, reminding them to make decisions for the benefit of the organization, not one individual or family.
When things do not go well, complaints come to board members. We impress upon our board members to reach out to management and share the criticism but also to suggest to the complaining parents that they engage with management as well. We often qualify our statements by invoking the hat with which one is speaking (parent or board). Lastly, members of the board have ample time to share their thoughts about how items are being addressed with and without management present.
Kelli Brogan
President, Board of Trustees, Shalom School, Sacramento
It is important that lay leaders are empowered in some way while they are on the board. At our school, we help cultivate a service leadership mindset by making sure our committees do much of the hard work. They do the research, then present their information to the board to be voted on. We usually have a current board member chair the committee; it is his or her responsibility to find committee members, with some direction from the governance and trustees committee. Ideally, this is our interview process for new trustees.
There was a time when our board was very much involved with the daily operations of the school. Thankfully, we realized that we needed help. We looked to Prizmah (then RAVSAK) to get us headed in the right direction. We assigned a board mentor, who helped our board move in the right direction. Now we always have an outside facilitator run our board retreats. This last year we used Board Source to figure out where the board needed the most work. We try and work on our weaknesses, because if we can identify them, we become a stronger board and we can work harder to strategically advocate for our school.
During my tenure as president, I have tried to make sure that our meetings are meaningful and substantive. I have looked to outside sources to find information on running better board meetings and read about what other Jewish day schools are doing to increase their enrollment. I have re-worked our agenda, so that we are not just giving reports, but have "New Business," "Old Business" and some reporting. We also try to have some board education once or twice a year led by a board member.
Return to the issue home page:
Image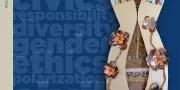 Winter 2019