Books Build School Ties for Parents and Teachers
Books Build School Ties for Parents and Teachers
Hadar Dohn
How does one thoughtfully build a collaborative school culture between faculty and parents? This is a question that we at Solomon Schechter Day School of Metropolitan Chicago (SSDS) have been grappling with for a long time. There are many peripheral ways that we currently collaborate at SSDS, but we wanted to look beyond that. We wanted something more meaningful, that would bridge multiple constituencies and have an effect on all aspects of our children. The answer: a schoolwide summer read involving both faculty and parents.
In the course of the year, we strive for balance: in work and home life, communication and stuffed inboxes, and obligations and choices. Day-to-day school leadership offers little time for managing the quest for balance. This is not so during the summers. Summer brings with it a promise of endless possibilities. If you are anything like me, "That's going on my summer list" is a common thought throughout the year. Summer has the potential for maximizing calm, time and focus. If the school year is filled with obligations, the summer is filled with hope. So how do we leverage the summer to further our school's mission and build the connections with our stakeholders who are not in session?
In addition to the obvious connections with our community over the summer, such as scheduled posts on social media and sharing information about preparations at school, summer reading offers a bridge between school and home. In schools, attempts to connect and inform often result in lecturing on deaf ears. Shared reading, in contrast, elicits dialogue and evokes thoughtful consideration of common language and purpose.
During the school year, I am constantly reading (at least) two books simultaneously, one to further develop my craft as an educator and school leader, and one for leisure. Overwhelmingly, I tend to read several industry books for every one that I read for fun. In the summer, however, I try to reverse the ratio of reading, more for leisure and less for school. This means that the trade books that I choose to read have to serve a purpose that is beyond my personal growth. If I am to read fewer educational and leadership books over the summer, what criteria do I use to select the books? What books would stimulate professional conversations among the staff and among the parents?
In order to select a book for the faculty, the school's Educational Leadership Team discusses many options. We are painfully aware that any book comes at the expense of another and appreciate the fact that for faculty, summer is the time to be away from school. I strongly believe that while some faculty complain about mandatory reading, overall, teachers enjoy reading to keep current with educational trends. When I was head of school at Hebrew Day School of Ann Arbor, the principal (now head), Jennifer Rosenberg, and I came up with an idea that we had not tried before. Rather than selecting one book for all the teachers, we presented them with the five books that we intended to read over the summer. The teachers selected the book that interested them, which created small discussion groups when we returned to school. The element of choice provided an exciting momentum at the end of the school year.
At SSDS, we selected one book for the faculty. Selecting a single book was a conscious decision to have a unifying experience for all of our K-8 teachers. Our intent was to select a book that supports our mission, fits our philosophy and challenges our thinking. The choice was made based on ongoing conversations that went on during the school year, an attempt to get everyone on the same page, and to use the expertise of others to guide us through an internal dilemma. The selected book, Lost at School by Ross Greene, has as its premise that children want to do well and if they don't they are lacking the skills needed for success, one that is in sync with our core values. Our Student Support Services Team read the book and held monthly book club meetings throughout the year, which served as a preview to the whole faculty assignment. This team will select another book for their summer reading.
Deciding which book to read over the summer is the school leadership's way of choosing the message on which we want to concentrate. The assigned book is a way of conversing with experts when not surrounded by other professionals. While many teachers attend workshops over the summer, for some, the summer reading is their connection to the professional discourse of education. While summer shifts the work-life balance, the independent reading sets the foundation for the conversations to come. It keeps the faculty thinking about school and their teaching throughout the summer.
At the same time, we are presented with an opportunity to engage similarly with our parent body. The selected book keeps parents thinking about school when their children are not in session. It gives parents insight into the school's thinking, for a better understanding of current philosophy and practice, which could be the basis for new initiatives. This year, we selected Ross Greene's Raising Human Beings: Creating a Collaborative Partnership with Your Child. It is the parent's version of the book the faculty will be reading. In it, Greene writes, "The process of solving problems collaboratively with the people at school often starts with a meeting in which you make it clear that coming to an understanding of what's getting in your child's way is the first step. Make sure the school knows you're not trying to make excuses for your kid—you are trying to understand why he's having difficulty and that the accommodations, adaptations, motivational strategies, and encouragement that they have applied so far have missed the mark because they are missing the information they needed. … Make sure your kid is involved in the process of solving the problem." Now, there is a conversation I look forward to having with parents at an initial book club meeting.
I hope our parents will take the time to participate. And I understand that it is challenging for parents to balance their own work lives. While students are not at school, parents continue to manage ways of filling their children's time, be it with camp, enrichment classes, play dates or summer fun. Not to mention that most parents are not off from work during the summer months. Still, I've found that parents are more likely to engage in school-initiated shared book reading over the summer than during the school year. Their equilibrium is shifted with different bedtime routines, no regular homework battles and increased hours of daylight. And for the parents who choose to participate, the level of engagement in the school increases. I found that inviting parents to discuss articles during the year can be a continuation of the summer reading group. The educators and parents can truly shift and strengthen their partnerships through meaningful discussions based on their shared reading.
With these particular books, Ross Greene challenges parents and educators to try a different approach to discipline. The ongoing discussions throughout the year that will follow the initial book club meetings will offer a forum to support implementation of this method. Monthly meetings for parents will be offered to discuss related articles or to use each other for support. The faculty will have monthly conversations at faculty meetings to examine scenarios from their practice.
As we think to the future, we might involve our students (at age-appropriate levels) in reading the same summer book as the adults. If we want to model cultural change, then we should think about true collaboration with our students. For instance, how powerful could it be to have our upper grade students reading a book on life-work balance and start off in the fall with a Sunday morning symposium where the community brainstorms the community norms by which we want to live. The thought of this is powerful and exhilarates me.
With summer around the corner, the to-do list grows. We may not be able to accomplish all that we want, yet we are able to immerse ourselves in a different rhythm, at a new pace and with renewed priorities. With this new balance, we set the stage for the following school year. We dream of summer during the school year. Over summer, let's keep everyone thinking just a bit about school.
Return to the issue home page:
Image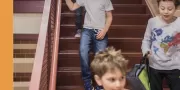 Summer 2017