Research Corner: Measuring the Pulse of Jewish Day Schools
Research Corner: Measuring the Pulse of Jewish Day Schools
At Prizmah, we believe in the power of data-informed decision-making. Our Knowledge Center collects and houses data, research and resources for and about Jewish day schools and yeshivas. To support field leaders, we conduct original research, gather and share data, report on Jewish day school trends and partner with organizations to further important research in Jewish day school education.
Since the start of Covid-19, we conducted two pulse surveys meant to understand the state of the field of Jewish day schools and yeshivas at that moment in time. Our second survey, fielded in August, showed that most schools planned to have in-person classes. More than 80% of early childhood programs planned to open in person, close to 70% of grades K-5 and 65% of grades 6-12. 46% of responding schools planned to give their teachers the option to work remotely if needed. We found that schools widely deployed surveys and "town hall" meetings as mechanisms for feedback and communication during the last semester of school.
Covid-19 is creating a financial vortex for many schools. 80% of schools indicated an increase in tuition assistance for the 2020-2021 school year. The average increase in tuition assistance is $145,000. Moreover, schools that opened their buildings had additional expenditures such as PPE, cleaning supplies, building modifications, outdoor enhancements and additional personnel. These totalled $173,031 on average, with the highest reported total costing $909,000. Per student, the average increased cost from all Covid-related expenses is $669.
On enrollment, 42% of schools reported an expected decrease, while 37% anticipate an increase. Nearly 60% of schools are projecting a downturn in fundraising.
Most schools had budget cuts for the 2020-2021 school year, with the top cuts reported in professional development, non-program staff and administrative staff. On a positive note, 65% of schools reported an increase in enrollment inquiries, the majority coming from public school families. Both Orthodox and non- Orthodox schools reported an increase in enrollment inquiries. When looking at the enrollment sizes of schools reporting an increase in inquiries, 40% of these schools are schools with enrollment under 200 and 36% have an enrollment between 200 and 499.
While the future is unknown, this report demonstrates some of the ways that Covid-19 has in the short term impacted school budgets and school openings. At Prizmah, we use this data to inform the support and offerings we provide to schools. In the coming year, we plan to conduct additional research of current trends in development and enrollment.

https://prizmah.org/knowledge/resource/fall-2020-planning-second-pulse-survey-results
Return to the issue home page:
Image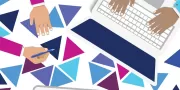 Fall 2020