Creating Community Spirit Online
Creating Community Spirit Online
Elana Paice Lidsky
The Paul Penna Downtown Jewish Day School opened our virtual school doors on March 15, just three school days after the Ontario government closed all public schools for the foreseeable future. This began a journey that saw unprecedented changes for our academic model, our families and our school community. With quick but careful and consultative planning, our virtual school environment blossomed into a place where academics thrived. We created warm, welcoming online forums that helped our school become a far-reaching, connected community for students, classes, families and even alumni, grandparents and friends. Strategic partnerships put in place by our administration and board with other schools, professionals and medical experts saw our school evolve as a leader in academic excellence, health and safety standards, and creating caring communities.
As a development professional, every conversation I had, every session I attended, started and ended in the same place: How will we both reassure our families and our wider community that we will take care of them and ensure that our school survives this pandemic? We made a plan and put it into action fast. With the support of our board, our administrative team made phone calls to every family in our school within two weeks to discover how each member of the household was faring.
We extended our reach beyond our current families, calling and connecting with alumni families, grandparents and supporters of our school. Our faculty and lay leadership team described many phone calls that demonstrated the depth of our role in the lives of our families. One school parent confided that their ill parent had moved to palliative care in the time of Covid-19 and they would only be able to say goodbye to them online. That caller was able to provide a safe space for grief and sharing. Another ambassador spoke to a family whose overseas saba and savta had attended our "Zoom 101 for grandparents and friends" session and was now connecting weekly with the family face-to-face.
A call was made to a long-time supporter of the school led to implementing a multigenerational Shavuot program that saw each activity led by a different constituency group from our school family: stories read aloud by alumni and grandparents, sundaes with faculty, yoga with school parents. This is one example of a wide array of virtual programs offered by members of our school community: family fitness classes, grandparents get-togethers and learning sessions, a virtual dance party and lots of online baking. Community blossomed both planfully and organically, and saw teaching extend beyond the screens of the digital classroom. On the very first Friday of our first virtual week, over 60 people gathered to bake challah, for science class, with a school parent of two alumni and two current students.
A three-generation, interfaith family that participated in many of our online offerings described the impact of these programs:
We have three children in the school, but none of their grandparents live in Toronto, so they have had few opportunities to be part of this community. Virtual programming opened the school to them. They joined lectures and programming, participated in talks and classes, and my father even brought classes for virtual tours of his dairy farm as part of their units on planting food and community helpers. During a class with a rabbi and school parent, my husband's mother shared that as a person of faith who is not Jewish, she felt that Paul Penna DJDS was a place where our whole family belonged. All the grandparents now feel like they are part of the school family and have personal connections with faculty, students, parents and other grandparents. Most importantly, our children are excited and grateful that their grandparents are part of the school that they call home.
Our school has seven core values: Community (Kehillah), Diversity (Migvan), Individuality (Yechudiut), Israel (Yisrael), Learning (Limud), Place (Makom), Social Justice (Tikun HaOlam). During this time, we asked ourselves, How do we continue to embody these values on a daily basis? When transitioning from a small, in-person, close-knit community school to a wired workplace became necessary, our school's professional leadership, our board, our Parents' Association leadership and our faculty preserved our school's excellence in delivery of integrated curriculum and community creation.
The working partnerships that were fostered between our school and other Jewish day schools, with our local federation, with expert health and safety professionals and with countless other experts in relevant fields, were invaluable. We emerged quickly as a leader among schools in our city, as did most of the Toronto Jewish day schools, resulting in our highest enrollment ever this year. There are many places to credit this growth. The desire of families with small children for quality virtual programming inspired our program Plugged into PreSchool, taught by our kindergarten and music teachers and offered for free to the youngest children in our community. Participating children and families were able to learn and experience our unique Jewish community from their home.
When Covid-19 shut down our physical school, teachers were trained on technology, adapted lessons and created new ones. Our school community responded with appreciation and enthusiasm. New prospects came to our school through word of mouth spread by grateful, well-cared-for families. Faculty community was intentionally created on many different levels: virtual programming and get-togethers, check-ins between administrators and teachers, provision of professional and emotional tools for learning and staying healthy, and of course, gestures of appreciation such as fresh Shabbat challah deliveries. A current parent and donor to our school made an unsolicited one-time additional major gift in recognition of the accomplishments of our teaching team in these unprecedented times.
Among our students, graduating sixth graders may not have been together physically, but they gathered and worked together in so many different ways. The in-person school musical, Fiddler on the Roof, was almost immediately cancelled. Their moreh, educator and tech expert, worked with the class to create a virtual performance of "Tradition" that was premiered to an adoring audience of school grandparents. The class "traveled" to New York City to visit and complete curricular activities at the Bronx Zoo and the Lower East Side Tenement Museum, joined by their teachers and parent volunteers, like any in-person field trip (minus the subway).
With the help of every faculty member in the school, the sixth graders evolved as leaders and mentsches. Despite the physical distance separating students in the school, they planned and executed their traditional Lag Ba'Omer field day over Zoom, showing leadership, creativity and an awareness of long-held school traditions. Their year culminated with a meaningful virtual graduation ceremony that families from all over the globe could attend followed by an in-person, socially distant diploma presentation—and water-gun fight. All this was planned and executed by faculty and parent volunteers in partnership.
It was not just the oldest students who benefitted in surprising ways from Zoom. With the careful planning and implementation of curriculum by their teacher, younger students became socially and technologically savvy beyond what could have been imagined. One SK parent commented that their five-year-old son was able to manipulate Zoom as well as, if not better than she could. From our youngest children to our graduates, students rose to the digital occasion.
Two videos created at the end of our 2019-20 school year sum up the magic that took place last spring. Two tech-savvy parents, with the help of every family in the school, created a thank you tribute to our teachers, with each student passing on their gratitude. As the school year drew to a close, our marketing team interviewed and collected testimonials of teachers, administrators, families and students. The pride and thankfulness each person felt toward our school community shone through their words.
Return to the issue home page:
Image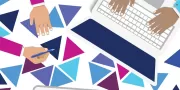 Fall 2020