Bookcase
Books
Ben David, Aryeh. The Godfile: 10 Approaches to Personalizing Prayer. Englewood, New Jersey: Devora Publishing, 2007.
Cohen, Steven M. and Eisen, Arnold M. The Jew Within: Self, Family, and Community in America. Bloomington, IN: Indiana U P, 2000.
Coles, Robert. The Spiritual Life of Children. New York, Houghton Mifflin, 1990.
Fox, Seymour; Schleffer, Israel; and Marom, Daniel, eds. Visions of Jewish Education. New York: Cambridge U P, 2003.
Kessler, Rachael. The Soul of Education: Helping Students Find Connection, Compassion, and Character at School. Alexandria: ASCD, 2000.
Pomson, Alex, and Schnoor, Randall. Back to School: Jewish Day Schools in the Lives of Adults. Wayne State University Press, 2008.
Roehlkepartain, Eugene; Benson, Peter; King, Pamela; and Wagener, Linda, eds. Handbook of Spiritual Development in Childhood and Adolescence. Thousand Oaks, CA: Sage, 2005.
Smith, Christian. The Religious and Spiritual Life of American Teenagers. New York: Oxford UP, 2005.
Steinsaltz, Adin. A Guide to Jewish Prayer. New York: Schocken, 2002.
Weinberg, Walter. For Goodness Sake: Religious Schools and Education for Democratic Citizenry. New York: Routledge, 2006.
Articles
Goldmintz, Jay. "Religious Development in Adolescence: A Work in Progress." Tradition 37:4, 2003.
Jewish Educational Leadership 5:2 (Winter 2007)—issue devoted to "The Search for Spirituality in Jewish Education."
Return to the issue home page:
Image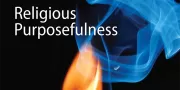 Fall 2008