How to Create an Archive
Donna Bernardo-Ceriz
The Ontario Jewish Archives (OJA), the largest repository of Jewish life in Canada, is a community-based archives located in Toronto. The institution was established in 1973 to ensure that the archival evidence of the Jewish experience in Ontario was properly preserved for the benefit of the community and for those wishing to research and explore the Jewish Canadian context. Our records document the community's earliest days in the province in the mid-nineteenth century to the present day and span all segments of the community's history, including family life, civic participation, philanthropy, institutional activities, arts and culture, and business endeavors.
Historical Records
Following the establishment of cemeteries and synagogues, much of Jewish Ontario's communal activity during the late 1800s and early 1900s was the creation of Jewish schools and places of study. The transmission of knowledge, customs and practices through formal and informal education was a requisite for transporting and sustaining Jewish traditions in the "new world." This ensured that subsequent generations of Jewish Ontarians would hold an appreciation for their religion and culture and that young people would understand the unique character of their Jewish identity as a minority group within a white, Protestant, Anglo-Saxon hegemonic society.
In the early years of the OJA, school records documenting this formative period were acquired from former teachers, administrators and board members, who saw fit to "rescue" the historic records after their schools had outgrown their premises, merged with other schools or ceased to exist altogether. Often the donors of these records were directly connected to the schools through synagogues, partner organizations and ideological movements under which many of these early schools were established.
Thankfully, these donations often contained the complete administrative records of the earliest schools in Ontario, whether they were Talmud Torahs or cheders, day or supplementary, religious or secular, Zionist or socialist, or a complicated mix of them all. The records included meeting minutes of the lay leadership, correspondence files, marketing and promotional materials, pedagogic and curriculum development materials, finances, ephemera, student and teacher files, and audiovisual records.
School records also were acquired from former students, as part of their personal papers. In these instances, rather than documenting the operation of the school, the records documented the individual experiences of the attending student but was limited by what they chose to retain into adulthood. In a similar fashion, the OJA received records documenting Jewish students in the public school system, sometimes at schools that were situated in neighborhoods that were almost exclusively Jewish in composition.
Contemporary Challenges
While the OJA still acquires important records documenting Jewish education through donations of personal papers, this strategy is inefficient when looking at the current recordkeeping situations at modern Jewish day schools. The increasingly bureaucratic nature of school administration means that the OJA can no longer simply rely on the enthusiasm of one or two founders or lay leaders to shepherd in these important collections. Toronto alone has 25 Jewish day schools serving over 10,000 students from kindergarten through high school. The strength and robustness of the Jewish educational sector is impressive but creates real challenges when acquiring school records. Archives must rely on the active participation of the schools as partners in the archiving process.
Today, the administration of school records is much more regulated, since most (but not all) Jewish schools are no longer supplementing a public school education, but rather are following the regulatory guidelines set out in their jurisdictions, in this case, the Province of Ontario. However, this doesn't necessarily mean that the historic value of the school's records is readily understood or appreciated by the custodians of this material. It is not until important anniversaries or dedications are being celebrated that school administrators come to appreciate their archives or curse the last staff person who threw them away.
School records hold value beyond the operational and the celebratory. They reveal some of the fundamental underpinnings of a community: How do we teach our children about who they are and what we value as a community? Past research conducted at the OJA on the history of Jewish education in Ontario has focused on topics ranging from the role of the Board of Jewish Education in setting pedagogic direction to the experiences of Sephardic students in Jewish day schools to the thorny debates of the 1950s on the transition from Yiddish to Hebrew instruction. Research inquiries like these have been aided by the various school records held at the OJA. Without these records, seminal moments in Jewish education would be unverified, or worse still, unknown. Jewish education and the decisions made by administrators, parents and students run parallel to the ebbs and flows of the community and illuminate everything from changes in pedagogy and instruction to trends in secular education, to domestic and global politics.
Today's context will pose new questions for scholars. What records will they have to consult? How can Jewish schools ensure that the information they hold in their school archives are preserved and available for study? Here is some practical advice for modern school administrators on how to prepare your school records for deposit at an archive.
Start Now
Often, schools wait until critical moments to begin thinking about their archives. Administrators are busy with their daily work and assembling an archive is, justifiably, the last thing on their mind. However, construction projects, celebrations, office reconfigurations and staff changes are pressure points when records are gathered or tossed. Avoid those moments and address your archives now. Many schools find that the summer is a great time to start assembling their archives and often seek student or volunteer help to do so.
Find a Suitable Home
You may be tempted to hold onto your school records, just in case. This is a common impulse, especially with records that are deemed private or sensitive. But maintaining your own archives is not simply a matter of finding an adequate storage closet. Archives and archivists are educated professionals, adept at navigating various pieces of legislation (such as those related to privacy) on a daily basis.
Archives also have proper storage space and climate conditions and, most importantly, room for growth, something that is at a premium in most schools. Archivists assist researchers with complicated inquiries and are knowledgeable about other heritage intuitions that can aid in research. Answering reference inquiries from the public would inevitably become an onerous administrative task. By housing your records at a proper repository, you are ensuring that they receive the professional long-term care that will preserve them into the future and will open them up to the broadest base of researchers. With digital records, this is even more important given the complexity of digital preservation and ensuring the long-term accessibility of digital files.
Work with the Archives
Working with the archivist, asking questions and accepting guidance will ensure that only the records with the most informational value are retained. Rarely do archives want everything you have to offer. The archivist can lead you to the most important high-level records, such as board minutes and policy documents, and away from the late slips and payment requisition forms. You will then discover the pleasures of throwing out the rest!
Make it Easy on Yourself
Archives like original order. The order in which the records were created or maintained provides important context. Don't feel the need to reorganize everything—it does more harm than good. Keep records that have been filed together, boxed together. Keep the event photographs in their original envelopes. Any identifying information that already exists, whether it's on the file folder or the back of a photograph, will help the archivist when the records are deposited and will help the researcher when they are ready for consultation.
Embrace the Digital
Perhaps the question we receive most often is what to do with all those digital files. Do we want those? Of course! They hold informational and historic value just like the paper records. Most (but not all) archives have digital preservation systems in place and are equipped to acquire, store, preserve and provide long-term access to digital files. The archivist will be able provide guidance on the best method of transferring the digital files as part of the larger collection of records. As with paper records, it is important to identify all the storage locations, decide what files have the most informational value and maintain the original order so that later, one can understand who created the records and why.
Celebrate Your Annals' New Home
It is mistakenly thought that once records are at the archives, they are locked up, never to be seen again. The reality is that historic records begin their secondary lives at the archives. No longer are they needed solely for operational purposes. They now act as a living legacy to be consulted, understood, interpreted and reinterpreted.
At a community archive like the OJA, records never sit in isolation. They are in constant conversation with other organizational records, school records and personal papers, and it is this bond between collections that provides the broad framework required for researching and writing Jewish communal history. How fitting that school records serve to document the very role that Jewish education plays in the transference of knowledge from one generation to the next.
Return to the issue home page:
Image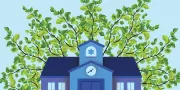 Fall 2021