Inspiring Innovation in Jewish Day Schools
Inspiring Innovation in Jewish Day Schools
Erica Brown
In a time when children pick up so much about their environment accidentally, Jewish education encourages decision-making and relationship building intentionally.
Maintenance learning is "the acquisition of fixed outlooks, methods and rules for dealing with known and recurring situations." We have an established way of life, and we maintain that through inculcating people into accepted practices, rituals and the values of that lifestyle.
We know that much of both education and leadership within Jewish day schools is centered on maintenance learning. We have chosen a particular Jewish lifestyle and want the classroom to be a place that is informed by those values. We expect teachers and administrators to conform to certain norms and also to transmit them. Living in a general culture that places individual autonomy above community and consumer empowerment above spiritual development, we know better than to take our values for granted. In a time when children pick up so much about their environment accidentally, Jewish education encourages decision-making and relationship building intentionally. Maintenance learning can be a formidable challenge in a society that maintains competing values.
Bennis describes shock learning as exactly the opposite of maintenance learning. It is the study of and reaction to situations and experiences that are out of the ordinary. They may be tragic or remarkably touching or overwhelming; they are experiences of intensity that may call into question the very norms that we have established so carefully in maintenance learning. No learning community can avoid shock learning because it emerges out of the unpredictability of life itself. We have an obligation to prepare our students for moments that surprise or confuse us, whether such times are as "anticipated" as becoming a parent or losing a parent (becoming a parent or losing a parent is always a shock), or global terrorism.
Taken together, maintenance and shock learning create a balance, preparing us for that which is expected in life while offering skills for navigating the ambiguities we will encounter along the way.
And yet, this research in learning calls both of these methods conventional. Bennis recommends a different approach, innovative learning, which rests on three central principles:
Anticipation: being active and imaginative rather than passive and habitual;
Receptivity: learning by listening to others;
Participation: sharing events rather than being shaped by them.
These qualities rely less on molding the student through texts and experiences than on empowering the student to be engaged actively in the learning process. Innovative learning moves us beyond material and reactions to events within or beyond our control. It asks us to embrace what we learn by taking charge of our learning, while including and collaborating with others.
Arguably one of the most significant roles for educational leaders is creating and sustaining multiple modalities of learning within school environments. The day school is no different. In many ways, because of the propensity of maintenance learning in Jewish day schools, we have to be more conscious of innovative learning or the absence of it. It is too easy to create passive students and teachers when the material you are teaching may be over two thousand years old and when replicating patterns of learning that are just as old. Because of the strong precedent of the rabbi/talmid relationship, we may demand that our students listen more than our teachers listen. In prayer and special events, we may expect our students to conform and be shaped by an experience rather than have them take ownership and shape the experiences. We make demands of day school students that rely a great deal on their patience or a maturity they have not yet developed. We do not check in frequently enough with them as inherent boredom monitors.
The most basic definition of a leader is one who has followers. People may follow a leader out of forced conformity or out of love and inspiration. If we are prepared to ask ourselves some difficult questions about day school education today, we cannot avoid the question of what kind of learning educational leaders in our schools are promoting. Is it maintenance learning with the shock provisos when appropriate, or is it truly innovative? Do we pay lip service to words like "innovation" and "transformation" but retreat to our old ways out of fear or reverence, or are words like this actually descriptive of what we do and think?
Some of our American Jewish day schools have been around for more than 60 years. They have serviced their communities well, but have they changed significantly in curricular approaches from when they began decades earlier? We have had sea changes in approaches to education, yet not enough of this language of change has trickled into the Jewish classroom or the Judaic studies faculty, in particular. It may be that the headmaster or principal uses different language while the faculty as a whole are not moving in any new direction. It may be that one member of the constellation of teacher/child/parent in the learning world of Judaism has not been informed or is distrustful of taking educational risks to make school a more exciting and vibrant place to learn.
Managers maintain the status quo. They follow orders and make sure that we all observe the rules and policies or an organization. In Jewish terms, they create seder or order. They are less concerned with the day-to-day running of an institution than with the vision of where their institution should go in the future. Leaders must be risk takers and innovators. If they can inspire and persuade us with their vision, all the better. But too many people in leadership roles in education act as managers and not as leaders and visionaries.
Every day we are ushering our children into a brave new world. It is a global world and one where technology and methods of communication are constantly changing. The Jewish day school can be a protected haven against these changes. It also has to be adaptive, growing and accommodating these changes. Day school leaders, both lay and professional, can fight change or nurture change, but none of us can ignore it. Leading in this landscape is not merely about being in a position of power; it is about creating a posture of influence where learning is dynamic and innovative. ♦
Dr. Erica Brown is the Director for Adult Education at The Partnership for Jewish Life and Learning and the Scholar-in-Residence for The Jewish Federation of Greater Washington, and the author most recently of The Case for Jewish Peoplehood. She can be reached at
[email protected]
.
Return to the issue home page:
Image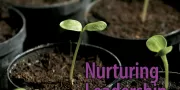 Summer 2009