Cultivating Administrators to Become Heads of School
Cultivating Administrators to Become Heads of School
Frances M. Urman
The dearth of qualified school leaders. Both public and private schools across the nation report a shortage of qualified headship candidates. This situation will become more severe when, in some parts of the country, nearly sixty percent of principals and heads will retire or resign from their positions during the next five years.
The lack of a leadership pipeline. A systematic approach to supplying senior leaders has existed in some organizations for many years. These organizations identify high-potential candidates and develop their leadership competencies in anticipation of moving them up the "leadership pipeline." In education, there is no such pipeline and leaders are rarely promoted from within their own schools.
The short tenure of heads. A study in 2006 found that the average tenure of heads was three years. Qualified heads do not remain in their positions for extended periods of time, hence many schools are constantly in a state of transition. Therefore, the importance of cultivating administrators from within schools cannot be stressed enough to provide stability and continuity.
Studies by The Center for Creative Leadership (CCL) indicate that serving as a leader today is more complex, requiring new approaches, new mindsets and new skills. The head of a school today must possess all of the skills of a CEO plus the educational background. A head of school needs to be an educational visionary; an instructional and curriculum expert; a psychologist; a community builder; a marketing and public relations guru; a budget analyst; and an overseer of legal, contractual, and policy mandates. Heads are expected to mediate the conflicting interests of parents and teachers, and they need to be sensitive to the widening range of student needs.
In order to effectively handle this multitude of challenging, varied responsibilities, the successful leader must possess distinct characteristics and abilities:
Developing people: Educational leaders empower teachers and other staff members to do their jobs effectively by providing professional development, intellectual stimulation and administrative support.
Setting a vision for the school: Successful heads develop a shared vision and motivate followers by ensuring effective communication with all constituents.
Leading school change: Respected heads create positive and productive school cultures, and lead school change through successful strategic planning.
Solving problems: Effective heads take risks and engage in efficient problem-solving and decision-making.
Working well with others: Efficient heads are self aware and build collaborative teams.
Research has shown that sustaining school improvement requires the leadership capacity of all, and that leadership should be distributed throughout the school. Distributed leadership offers more opportunities to put more people into leadership positions, thereby increasing the potential number to rise to the top positions.
Time and resources must be set aside for this leadership development. Opportunities should be extended to high potential staff for continuous growth.
There are at least three possible ways in which administrators can increase their leadership knowledge and skills.
To participate in a leadership development program;
To change jobs and assume increased leadership responsibilities; or
To reshape a current position by adding new challenges.
Participating in a Leadership Development Program
In-service training or professional development programs are available through many sources, including universities, school districts, county and state departments of education, professional associations, regional laboratories for-profit and non-profit organizations, and independent consultants.
One such program, the Day School Leadership Training Institute (DSLTI), is the only Jewish professional development program committed to training administrators to assume headships in Jewish day schools. This is a 14 month program consisting of two month-long summer residencies with three retreats during the intervening year.
During the first phase of the institute, participants utilize a number of assessment tools to understand their leadership style. A formal interview with their school supervisors focuses specifically on identifying the candidates' areas of strength and challenges. A 360° evaluation provides valuable feedback from supervisors, peers and direct reports in the sixteen fundamental skills that are essential for effective leadership. With this data, the participants create a personal developmental plan to be implemented in their schools. Each participant is assigned a personal mentor who provides support, resources and ongoing feedback.
A necessary component of the growth process comes from experiencing challenges which take participants out of their comfort zones. These experiences, coupled with effective support, allow participants to risk, learn and grow. Throughout the course of the institute, participants learn to think like heads of school through readings, case studies, simulations, problem-based learning and targeted exercises. The outcomes of the institute for participants include increased self-confidence and self awareness, knowledge and skills acquisition, and transformational changes.
Ultimately, participants acquire a personal vision of Jewish educational leadership and gain a style that is grounded in self-reflection and Jewish values.
Changing Jobs and Assuming Increased Responsibilities
Perhaps the most difficult way to assume a headship is to enter this position without participating in a formal leadership development program. Such on the job training is not easy. Administrators who move up the ladder to a headship assume increased responsibilities and must learn new skills. To be successful in this scenario, the new head must be buttressed by a support system. Educators or administrators who rise to a headship must be supported in areas where skills are lacking. In such cases, it is helpful to have the availability of an effective board. Providing a leadership coach for the new head may also prove invaluable.
Reshaping a Current Position by Adding New Challenges
It is not necessary to attend a leadership development program or to seek a new position in order to improve leadership skills and abilities. An additional way to cultivate new heads is through developmental assignments. It is possible for educational administrators to remain in their current positions and develop their leadership abilities by taking on new and different assignments. Research at CCL indicates that challenging assignments are a major source of leadership development. When managers and executives are asked to describe key developmental experiences in their careers, 50 to 70% of the experiences they describe are challenges encountered in their responsibilities at work. In such instances, administrators are able to increase their skill set and build confidence in new areas of management.
For those who seek to improve their leadership skills, there are several strategies for taking on new challenges. However, what is most important is finding the right challenge. Ask yourself what skills or behavior do you want to develop. What are your strengths and which are the areas to be developed?
Take on temporary assignments by trading responsibilities with a trusted colleague;
Reshape your job by talking with your boss about new responsibilities that could be delegated to you;
Take on responsibilities that are currently falling between the cracks; and
Seek challenges and leadership experiences outside the workplace in social, religious or professional organizations.
When taking on new challenges, it is important to be realistic. It may be necessary to drop some current responsibilities.
For heads who seek to develop leadership talent within others, development begins with a fair and accurate appraisal of current strengths and weaknesses as well as an awareness of the competencies required for moving forward. It is necessary to allocate about eight hours per year to develop each direct report.
There are three things that successful heads do to develop others.
They delegate important tasks and decisions. They brainstorm with their direct reports about tasks not being done and out-of-comfort-zone responsibilities. Providing challenge and opportunity builds skill, experience, and confidence. As a result, effective leaders surround themselves with talented people.
They focus on feedback. Successful heads communicate both expectations and results. Feedback should be accurate and balanced and come from multiple people including direct reports and peers.
They motivate, and reward hard work and dedication to excellence. They willingly explain, answer questions and patiently listen to concerns. They give the people that work under them the opportuni5ty to aspire to bigger and better things. They help them expand their perspectives so that they can better judge for themselves what the headship is about and if this is the job for them.
Cultivating administrators and developing a leadership pipeline for the headship of Jewish day schools is a highly significant task due to the imminent retirement of the baby boomers and the lack of trained heads. The importance of this vital leadership role cannot be underestimated. Heads have the responsibility of educating future generations of leaders in Jewish literacy and values, and religious purposefulness and practice. In fact, the continuity of Jewish peoplehood may depend on it! ♦
Frances M. Urman is Project Director of the Day School Leadership Training Institute. She can be reached at
[email protected]
.
Return to the issue home page:
Image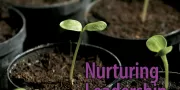 Summer 2009