The State of Financial Aid in Jewish Day Schools
The State of Financial Aid in Jewish Day Schools
In the fall of 2014, recognizing the importance of financial aid to day school families, the Partnership for Excellence in Jewish Education (PEJE) surveyed 56 diverse Jewish day schools from across North America to learn about their financial aid practices. Using questions from PEJE's new Recruitment & Retention Self-Assessment Tool (RSAT), which enables schools to assess where they stand relative to best practices, we were able to analyze the current state of financial aid.
The results were revealing. We learned a great deal about how financial aid really operates: where the procedures are strongest, and where the field needs to do some work. The findings, presented for the first time in writing, are detailed below. Our research shed light on the sophistication of practices and also their user-friendliness. Such a nuanced analysis is critical because (a) a majority of day school families now receive some sort of aid—a far different situation than was the case 10 years ago; and (b) how parents feel about the financial aid process colors their feelings about their school and can lead to decisions not to explore or to enroll or, for enrolled families, to word-of-mouth support or negativity. This, in turn, can have a huge impact on enrollment.
Review Layer
One significant element we considered: How schools do, or do not, use third-party tools and/or resources to assess prospective families' ability to pay tuition. To be effective, this kind of outside evaluation must be designed to reflect criteria based on a community's—and target segment's—Jewish lifestyles and financial situations.
We looked into which schools employ a third-party review layer and learned that 73% of those surveyed fully did so. It was good to find that the great majority of schools engage in objective collection and assessment of financial data, as 18% do not engage third-party reviews and only 9% have partial additional review layers.
Respondent schools clearly understand the difficulty in trying to assess communal affordability rates, in an objective way. We believe that is it smart, and politic, to trust this particular part of the financial aid process to outside experts.
Our school utilizes third-party tools/resources to assess families' ability to pay. These reflect criteria based on our community's and target segments' lifestyles and financial situations.
The Language of Accessibility
We know that language plays a big part in the fiscal culture of every school, and how families perceive the friendliness/supportiveness of the financial aid process. So we asked if there was common, consistent messaging, heard in both admissions and the business office, reinforcing the school's desire to include an economically diverse group of families.
What percentage of schools surveyed believed in the fiscal application of Kol Yisrael arevim zeh la-zeh?
More than half of respondents—60%, in fact—said their schools' staff were fully unified in how they speak about financial aid, while 38% were only partially so. This is encouraging news, and it suggests that we, as a field, need to make it easier for the 38% to convince their entire kehillah to talk about fairness and a desire for accessibility and financial aid.
Our school develops common language about the school's tuition and financial aid policies among the admission director, business office, and financial aid committee to ensure families receive consistent messages about the school's desire to make itself accessible to a broad range of families, consistent with its financial sustainability.
Coordinating Financial Aid and Admission Timelines
Financial aid decision timelines are very important. A school with a healthy and friendly financial aid program will communicate financial aid awards coincident with when admission offers are extended. The idea: families should understand school cost before enrollment deadlines are reached.
Our research says that 53% of schools fully comply with the practice of communicating awards and admission offers concurrently, but a rather high percentage—25%—simply do not, and another 22% do so only partially or inconsistently.
Synchronizing the announcement of financial aid and enrollment is strongly advised for all schools desiring to maintain and expand enrollment. A caring school needs to respect its families' desires to make fully informed decisions.
Our school communicates financial aid awards concurrent with admission offers to enable families to understand what school will cost for their family before enrollment deadlines are reached.
Clear, Timely Communication and Easy Access to Financial Aid Committee
Financial aid is a complicated business, and it is the responsibility of Jewish day schools to communicate about this in as clear and timely a manner as possible. In addition, it is essential that the families that are financial aid candidates can easily access the school's financial aid committee to ensure there is a full understanding of their situation and to feel "heard."
How did the responding schools do here?
Fairly well, in fact: 44% report that they are fully compliant, while 45% say that they are partially so. The notion that so many schools provide access to the financial aid committee tells us that there is a real will to construct humane financial aid processes, and for that we can all be proud. Yet, there is room for improvement.

 
There is a clear and timely financial aid appeal policy communicated to families via a variety of electronic media and regular mail to enable easy access to the school's financial aid committee.
Publicizing Financial Aid Guidelines and Timetables
The process of applying for financial aid can be fraught with tension and embarrassment. Increasingly, even middle-income families who are making "good money" have to apply for aid. Therefore, some schools have designed their programs specifically to encourage middle-class families to apply for aid and not simply walk away because they feel day school is unaffordable. To that end, we inquired just how carefully schools created and publicized their financial aid guides and timetables with this end in mind.
In this case the partials win: 46% of respondents said "partially," while 38% responded "fully." 16% of the schools answered that they "do not."
Taking care to communicate clearly and in a tone that helps preserve families' sense of dignity is not only consistent with our values as Jewish day schools, but simply smart from a business standpoint. This should be an area of focused improvement in our view.
Tuition assistance guidelines and timetables are well publicized and carefully designed to attract and retain middle-class families.
Wanted: Transparent, Longer-Term Tuition Plans
Schools that are listening carefully to prospective and current families are requesting more visibility and predictability for tuition levels. PEJE's research suggests that even families who are curious about day school are hesitating because they cannot project the cost more than a year at a time.
Perhaps the biggest area we found wanting was that of long-term tuition announcements. We believe that making multiyear tuition announcements is central to affordability in that such allow a sense of predictability for families.
A majority of schools, 58%, do not make such announcements. Only 11% do, and 29% indicate they are somewhere in between, meaning they provide directional guidance about tuition plans but not definitive numbers to which they will commit.
It takes disciplined long-term operational and financial planning to be able to make future tuition announcements. We believe this is a key emerging requirement for a truly accessible day school system. We strongly recommend that schools take the long view here and find ways to plan, for themselves and their families, for the future. Short-term thinking can have disastrous consequences, not just for a financial aid program, but for a school's overall fiscal health.
The bare truth: Jewish day schools really need to do more to view financial aid through the lens of families involved!
Our school develops long-term tuition plans as part of its long-term financial planning. These allow for the possibility of multiyear tuition announcements so that there is predictability for families over time.
PEJE's research suggests to us that the field is, by and large, aware of the business and human issues involved in financial aid and has taken some steps toward addressing it. However, in a time in which the number of financial aid families are soaring, we also recognize that continued customer-friendly progress must be made. It must be accomplished in a fiscally responsible fashion. To engage seriously in sustainable practice will involve intensified planning and the commitment of an entire day school ecosystem. The question is: Will we have the will and discipline to make it happen? There is a great deal at stake as we need to fill empty seats for reasons of mission and sustainability.
PEJE is researching new ways of setting and communicating tuition that enhance enrollment and sustainability. PEJE wants to hear from you about new approaches you have tried that work, and don't work. Please contact us to share your thoughts.
Dr. Harry Bloom is the strategy manager for day school sustainability at the Partnership for Excellence in Jewish Education, where he is responsible for programs in development, governance and student recruitment and retention. Harry@peje.org
Return to the issue home page:
Image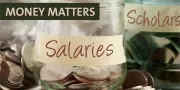 Winter 2014