Money Talks: Exploring Values through the Lens of Money
Money Talks: Exploring Values through the Lens of Money
Whether it's avoidance, fear, or discomfort, schools seem to steer clear of the topic – and as a result, students miss out on many opportunities to learn essential life skills, explore Jewish texts and traditions related to money and its uses, and ask big values-laden questions about themselves, their families, and their communities.
Here I offer six ideas for introducing the topic of money into your classrooms, and using it as a lens through which to examine core Jewish values with your students:
Teach financial literacy. Schools have a unique opportunity to introduce basic financial concepts and terminology. In teaching students about spending, saving, and investing, schools can help them establish a healthy relationship with money. Some may consider financial literacy to be "too adult" a topic, but research makes a strong case for school-based education on financial topics. Children are introduced to money at a very early age; indeed, several Sesame Street episodes address the topic, encouraging toddlers to set aside their money in three jars: one for short-term spending, one for saving, and one for charity donations. Curricular materials and online resources for different age groups abound. One great resource is Life$avings for Teens; although created by Jewish Women International for use with all-girl groups, much of the material is appropriate and relevant for boys as well.
Discuss Wants vs. Needs. Have a conversation about wants and needs. Even for adults, it's a hard distinction to make – do we need HBO, or just really, really want it? Do I need those new shoes? Do I need an iPhone6? For children and teens, it's even harder. Asking the question, simple as it may be, is a good place to start: "Do you need this, or just want it?" Then dig deeper, challenge assumptions, and tap into bigger issues related to deeply-held beliefs or values. Introduce the concept of setting short- and long-term goals related to money, help students build personal budgets that distinguish between necessary expenses (needs) and optional ones (wants), set students on a course of having a healthy relationship with money. Note: this is not about (Jewish) guilt; it's okay to want things!
Align Money-Related Actions with Values. The ways in which we use money should reflect our values and beliefs. Especially for older teens, the opportunity to reflect on money-related decisions can be eye-opening. A student activist involved in child labor protests may discover that her new skirt, bought with her babysitting earnings, was sewn by underage, underpaid workers. Another student may become curious about how his parents invested his bar mitzvah gift money. Students may wonder why healthy, fresh fruit costs so much more than vending machine candy. Such conversations present all sorts of teachable moments; materials to initiate and facilitate such discussions include this guide produced by Ask Big Questions and curricula by American Jewish World Service.
Be Transparent about Money. To the extent that it's age-appropriate, engage your students in open discussions about money rather than conveying any discomfort you may have with money. Open their eyes to the complex money issues at school, such as tough allocation decisions (go on a field trip or buy new textbooks?), and share your decision-making process. Be prepared for tough questions -- students will likely be very curious and perhaps judgmental – and be honest in your responses. Delicate topics like tuition and scholarship funds are harder to discuss, although if shared in a sensitive manner (and without singling out any students, of course), students can gain a new appreciation for the diversity of your student body and the core values held by school leadership.
Go Beyond the Bake Sale. Fundraising campaigns are commonplace among the student body as well as parents, alumni, and the broader community. They present many educational opportunities, both technical and values-based. Students can (and should) engage in strategic thinking as they identify causes and organizations to support, set fundraising goals, and evaluate different methods and approaches (should we raise $1,000 from one person, $100 each from 10 people, or $1 each from 1,000 people?). Teach students how to build a budget (account for the money that goes into a fundraising campaign!) and a project timeline; these are skills they'll appreciate as they head off to college.
Tzedakah 2.0. While most day schools incorporate tzedakah into the curriculum and/or extracurricular programming, there are new ways students can learn about, and practice, giving. Jewish teen foundations bring together students as a "foundation board" to define a group mission, research nonprofits, solicit and review grant proposals, conduct site visits, and ultimately, work through consensus to arrive at a decision about where they want to give their money. Today, there are 106 Jewish teen foundations running in day schools, synagogues, summer camps, federations, and other Jewish organizations throughout North America. Download curricular materials and "best practices" from the Jewish Teen Funders Network, including a teacher's manual produced by RAVSAK.
P.T. Barnum said, "Money is a terrible master but an excellent servant." How might an exploration of money serve your school and your students? How can you help your students become masters of their money and not slaves to it? How can discussions around money open up opportunities to ask big questions about personal, communal, and Jewish values? Like it or not, money is an essential part of our lives—and an ever-growing part of our students' lives. Let's help them become comfortable, thoughtful, and responsible in how they handle it.
---
Stefanie Zelkind is the director of the Jewish Teen Funders Network, a central resource for the growing field of Jewish teen philanthropy. stefanie@jtfn.org
Return to the issue home page:
Image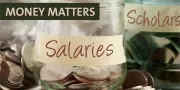 Winter 2014