Fundraising Compaigns in Our Schools: The Integrated Ask
Fundraising Compaigns in Our Schools: The Integrated Ask
This time of year is annual giving season. By now, schools have sent out their annual appeal letters and are starting telethons, social networking campaigns, email campaigns, and even videos campaigns asking parents, grandparents, alumni, and community members to give. Pitches may be different: Give to the Scholarship Fund, Help Buy iPads for Each Student, or Support Advancement and Excellence. But in the end, annual fundraising is an effort to help schools fill the annual budgetary gap between tuition and the cost of running the school. 
In order to make sure we provide different giving opportunities to donors with different giving desires, development offices also run auctions and galas. Also, the school, either through the development office or the parents association, might sell Hanukkah candles, greeting cards, or Pesach candy. But are we really providing more giving opportunities? Are we maybe just asking too often and exhausting our donor base?
At Senesh, we have had great success with integrated asks of our major donors. Most donors don't want to be asked throughout the year, or even every year, but want to make one gift and ask that the school decide how to distribute the recognition. Why not offer the same opportunity to those donors with whom you are not having one-on-one asks?
Last year we offered a one-click option for annual giving. For $1,000, donors who chose this received two tickets to the gala and a free journal ad, and listing in the annual report at the $600 and up annual giving level. This year, we are offering a second giving option: for a gift of $1,500, $1,000 goes to the annual campaign and $500 to the gala. In return, the donor receives two tickets, a slightly larger ad, and a free taxi to and from the gala.
This may feel very transactional, and in the world of relationship fundraising we prefer not to rely on a consumer model, but many donors need to know that their donation is recognized through a gift in return. This makes particular sense for middle income families who want to participate in all aspects of giving, but don't have the time or the mind space to deal with multiple asks.
We had fantastic success with this model, and look forward to being able to provide more integrated giving opportunities to Senesh donors. There is no doubt that as fundraising becomes so much more important to support the increased cost of running a school, annual giving opportunities need to be creative and easy on the end user.
Return to the issue home page:
Image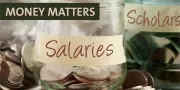 Winter 2014