Fundraising Compaigns in Our Schools: 100 Holes of Golf Marathon
Fundraising Compaigns in Our Schools: 100 Holes of Golf Marathon
The History
We're an EC-8th grade community day school with about 350 students. We held a traditional golf tournament for 10 years and used the proceeds to endow a $250,000 scholarship fund. Over time, the expenses of the tournament escalated and the number of golfers dropped. We discontinued the tournament five years ago. Two years ago we went to a 100 hole format. Here's how to set one up.
Reserve a course, public or private, on a day the course is not in use. For us, this is a great end of the school year event. (Our golf course fee is $4,000.)
The contract allows us to bring in food (needs to be kosher) for a light breakfast and lunch. The golf course provides water and Gatorade at every other hole, which we altered to be coolers on the back of each cart. At lunch break everyone turns in their cart and gets a new one. Important: carts may otherwise run out of power.
 
Recruit golfers. For the first year, aim for 6-8 golfers. The idea is to have a few golfers so that they can move quickly. The second year we had 11 golfers. We expect to have 14 this year, probably close to the limit. The first year, 6 of 7 golfers finished the entire 100 holes. Golfers agree to solicit sponsors per hold and commit to raising a minimum of $1,000.
The goal: golfers who move in different social circles and different business venues. Most donors chose to sponsor $.50 per hole, $1 or $2 per hole; some chose much more. Populate the page with preset amounts and leave space for "other."
 
Clarify rules so you can share them with golfers. Understanding the rules makes it easier to recruit golfers. Normal rules of golf are abbreviated: three feet of the hole counts as "in"; seven strokes max per hole. That dramatically speeds up play!
 
Set up a web page and have golfers customize their page. Then encourage them to send the page to their entire address book. We started fundraising six weeks before the event, and encouraged the golfers to send out a personal note/line every other week. As a school, we used Facebook to promote the event, congratulated golfers when they reached milestones (the first to raise $1,000, the first to have 50 sponsors, etc.).
 
Encourage golfers to have a friend "caddy," drive the cart. The person is very helpful for spotting balls. And...it gets lonesome!
 
Food is minimal. Bananas, orange juice and coffee is all golfers want in the morning before hitting the links. We provide bagels and a schmear, but most do not eat.
 
We had goodie bags for each golfer. We used shoe bags that a sponsor paid for, filled with individual containers of aspirin, sun screen, bug spray (dollar size available at Target or other mass merchant), a bag of 36 golf balls, gum, mints, and some protein or granola bars. We also had golf towels printed, and used the extra towels to give to sponsors.
 
Sponsors were on the webpage at $250, $500 and $1,000. For $250 a person became hole sponsor: his or her name was put on a golf sign by the tee-off. $500 made someone a beverage cart sponsor, and $1,000 was for an event sponsor. All sponsor names were on the thank-you notes.
 
We took pictures during the event and sent every donor a thank-you note with a picture of the golfers after the outing.
 
Our golfers have included 8th graders, board members, grandparents and community members.
Total expense, including breakfast, lunch, golf signs (purchased the first year and then reused), towels and everything for the goodie bags, is less than $5,000. Most income is from online donations; the results are immediate and easy to monitor. No dinner after the outing; golfers are tired! We had some prizes (donated) for 1st to finish, low score overall, and most number of pars.
Schedule day of event:
6:45 AM meet at golf club; continental breakfast available.
7:10 AM  carts pull away for 7:15 shotgun start
11:30-12:00 break for 45 minute lunch break. Golfers come in whenever they want, depending on where they are on the course. Switch carts, restock cold water or drinks, and return to the course.
The first golfers finished around 5 pm; at 6 we had 3 golfers left on the course; we asked everyone to come in no later than 6:30.
The second year, with 11 golfers, we netted $35,000. It was not a lot of staff time, and we garnered a lot of publicity from news stations because of the novelty of it. We used a high school alum to help with the technology as part of a senior project.
---
For more information, contact Laura Leventhal at 216-464-4055 ext. 124 or Lleventhal@agnon.org.
Return to the issue home page:
Image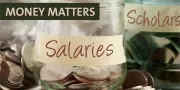 Winter 2014