The Four Levers of Jewish Day School Affordability and Sustainability
The Four Levers of Jewish Day School Affordability and Sustainability
Every morning I wake up and bound off to school excited for a new day, ready to greet my students with a smile and meet the challenges the day holds in store. I love my job because of the students. I don't think any person would be crazy enough to be a head of school were it not for the amazing things children do. On a daily basis, we get to witness our students growing into empowered, engaged, and responsible members of Am Yisrael and the world.
Despite this exuberance, though, I sense that there is a cloud hanging over almost every Jewish day school. Heads of school are often being asked by the lay constituency to pull a proverbial rabbit out of a hat. They are expected to become creative with budgets and to rethink Jewish day school education in order to make it viable for the future. Day school affordability and sustainability have been at the forefront of every Shabbat table conversation since the recession hit in 2007.
Are day schools today really that much less affordable than they were 20 years ago? My parents' generation also stretched financially to make Jewish day school education a reality for their children. They skimped on vacations, didn't get the new car, and waited a few extra years before repainting the house. However, parents today seem to perceive Jewish day schools to be pushing through a ceiling of affordability. In part, we created this issue by perpetuating the theory of the upward cycle. The theory is to invest in your program in order to lead to further growth in enrollment. This seems to work but as a result parent expectations, as consumers, have continued to rise and therefore so has the necessity for further programmatic improvements. This then increases the cost to run these programs and the tuitions therefore increase to cover the cost—a continual upward cycle which now pushes the ceiling of affordability.
Stephen Kepher, development director at Seattle Jewish Community School, once said, "My favorite director of finance would always point out to the board that there are three basic factors at independent schools: class size, faculty salaries and tuition. A school can have any two of the following: small classes, high faculty salaries and low tuition—but not all three. If you want small classes and high (i.e., a living wage) salaries and benefits, then you have to have a high tuition. If you want lower rates of tuition then you have to have either large class sizes or low faculty salaries. This, of course, raises questions about your core values as well as what the market may allow (e.g. is there enough interest in your program to allow for a pool of applicants that will lead to full enrollment at any class size…etc.). Somewhere in the midst of all this is the intersection of affordability and sustainability." (From "Blended Learning: Some Love It, Some Hate It—But Everyone's Talking About It," a blog post by Charles Cohen on PEJE.org.)
There is a fourth lever which could be added to this list, namely fundraising. These are the four levers that a school needs to pull in order to create sustainability: enrollment, staffing salaries and structure (this being approximately 80% of any school budget), tuition and fundraising.
Any one of these levers can pulled in a significant way, in order to create sustainability for a school. But in all likelihood, each of these levers would need to be pulled simultaneously in order for it to work. The big question is how to pull these levers in such a way that a school remains affordable.
Enrollment growth is always an issue for day schools, and there continues to be a focus of how to increase enrollment especially of full paying families (even though according to our missions we do not want to deny anyone a Jewish education). On the staffing side, schools are coming up with very creative teaching models (staffing structures) in order to reduce costs: blended learning, multiage classrooms, online learning, co-op model (where parents volunteer their time to serve as unpaid administrators and teachers), to name a few. These models are being implemented while attempting to avoid diminishing the student experience.
But then it always comes back to the lever of tuition. Day schools continue raising tuitions in order to keep up with the rising costs of running our programs. However, as the tuitions rise, more and more families are falling into the tuition assistance category. Therefore, day schools are coming up with all sorts of tuition models in order to make day schools more accessible to the most number of people possible. We try to create transparency and consistency in our tuition setting so that families will be able to plan better. We create systems for families who don't want to go through the traditional financial aid process but still want/need to receive some sort of discount on tuition. The problem is that we need some way of paying for these new tuition models. We may save some students from attriting because of these tuition models but we also incur greater expenses.
A Jewish day school cannot exist without some balance between affordability and sustainability. If tuitions become unattainable, there will be no students in our school. If schools make their programs so affordable that they don't take in enough income to run their programs then the schools become unsustainable and will close. Schools are challenged by this dilemma daily.
According to one definition, affordability is when is something is "believed to be within one's financial means." It doesn't mean that it actually is within one's financial means but rather the thing perceived to be of value enough that one will find a way to pay for it. It has become clear that many Jewish parents today do not perceive the value of a Jewish day school education to be worth the tuition price tag. Parents today are demanding that the burden of day school affordability be shifted to the school/community. Whether it is through endowments, perpetual grants, government funding, or other sources, schools must find alternate revenue streams in order to offer a tuition that is perceived by today's parents to be affordable. This is the only way to sustainability for Jewish day schools at the moment.
Lay and professional leaders keep pounding the pavement to increase giving among current donors and to try and find new revenue streams from new donors. Endowments and legacy giving have become the new buzzwords within the day school world in order to ensure our future (had we had this focus 20 years ago, we might not be having the same conversation around day school affordability today). There needs to be communal buy-in, of families who no longer have their kids in day school, to bear the burden of our Jewish future. There have been any number of studies which show the impact of Jewish day school on our future as a people. Communities, foundations and federations need to understand this and make day school a priority. Without communal funding and support day schools will either disappear or become an education for wealthy Jews.
I cannot imagine a more fulfilling job than working in a Jewish day school. But if we are not careful, and don't pull all of the levers properly to balance out affordability and sustainability, there will not be any day schools in which to work.
---
Rabbi Yehudah Potok is the head of school at Striar Hebrew Academy in Sharon, Massachusetts. ypotok@striarhebrew.org
Return to the issue home page:
Image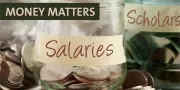 Winter 2014