Forging a School's Vision for Israel Education
Forging a School's Vision for Israel Education
Vision
Israel cannot fill the void of American Jewish identity. What it can do is complement, refine, and make American Jewish identity more whole.
At the Milken Community High School in Los Angeles, the vision of Israel education is built on four big ideas:
A. There Is No Intimacy Without Identity
An American Jew in Israel is often challenged to define and justify the unique mission of Jewish life in North America. We approach this challenge with a fundamental premise which has equal significance for North American Jews in their relationship with Israel and in their relationship to American society at large. As Brandeis professor Joe Reimer once put it: There is no intimacy without identity. In order to be in a relationship, one needs to have an identity of one's own and one needs to be able to be alone (as opposed to lonely). It goes without saying that such an approach vigorously rejects the notion of shlilat HaGolah (the negation of the Diaspora). Israel cannot fill the void of American Jewish identity. What it can do is complement, refine, and make American Jewish identity more whole.
B. Israel Education, American Jewish Education, and Covenantal Jewish Education
American Jewish identity and Israel are two parts of a larger whole. American Judaism and Israel can be represented as two overlapping spheres with realms of commonality and distinctiveness. One significant task of learning about Israel involves comparing and contrasting the nature of the Jewish enterprise there and here in order to discern complementary and conflicting challenges and purposes. The overlapping spheres of American Jewish and Israel education are encompassed by a larger third sphere, which we will call Covenantal Jewish education. This sphere contains the master narrative of the Jewish people, its origins, history, values, texts, and goals, and how to apply the sources of halakhah (law) and aggadah (lore) to the burning moral, spiritual, and intellectual issues of the day.
C. The Distinctive Missions of American and Israeli Judaism
Consider two Zionist challenges which come from radically different voices in contemporary Israeli society. A. B. Yehoshua, one of Israel's leading secular authors, argued before the centenary of the American Jewish Committee in 2006 that in the Diaspora, Jewish identity is a garment to be taken off or put on as one wishes:
Jewish values are not located in a fancy spice box that is only opened to release its pleasing fragrance on Shabbat and holidays, but in the reality of dozens of problems through which Jewish values are shaped and defined, for better or worse. A religious Israeli Jew also deals with a depth and breadth of life issues that is incomparably larger and more substantial than those with which his religious counterpart in New York or Antwerp must contend.
From a very different place on the Israeli spectrum, Rabbi David Hartman, a religious Zionist philosopher who has built profound bridges between Israel and North America, argued in "Israel and the Rebirth of Judaism":
I cannot participate in the building of a Jewish community by only assuming responsibility for the private sector. If I do not feel responsible for the moral quality of the army or for the social and economic disparities in my society; if I do not agonize over how to exercise power while retaining moral sensitivity, or if I do not feel responsible for a political system which fosters widespread apathy and alienation, then I am still living spiritually in the Diaspora despite my residing in Israel...Because Jews govern an entire society, the responsibilities of each Jew extend beyond the circumscribed borders of the home and the synagogue.
Diaspora Judaism can be deprecated as a removable garment and the synagogue compared to a "city of refuge." Before responding, let us acknowledge several unique features of Judaism in Israel: political sovereignty, the organic rootedness of culture, history, language, and land, and the existential responsibility of belonging to a people with a shared fate. Now we can ask: what is the unique challenge, opportunity, and mission of Judaism in North American?
In his essay "The Blessings of Assimilation in Jewish History" (1966), Dr. Gerson Cohen employs Ahad Ha'am's distinction between chikkui shel hitcharut (competitive imitation) and hitbolelut (assimilation): Whereas the latter leads to the disappearance of the Jewish people and its distinctive culture, the former enables the healthy appropriation of new forms and ideas for the sake of growth and enrichment. American Judaism's religious, cultural, and intellectual creativity requires living within and apart from American civilization, utilizing prosperity, power, and freedom, and creatively adapting or "Judaizing" American virtues, such as democracy, pluralism, egalitarianism, and pragmatism. Just as Judaism has integrated and interacted fruitfully with a multitude of majority host cultures in the past, the American-Jewish experiment involves working out what can result from the exceptional encounter between Judaism and American civilization.
Competitive imitation requires constant engagement and vigilance wherein Jewish identity can be compared to the semi-permeable membrane of a cell. For the cell to survive and thrive, it must cultivate what is vital within, absorb salutary elements from outside, and filter out what is destructive or even distracting and benign. The freedom of America provides room for variegated forms of Jewish ideology and practice and a degree of self-awareness which are less likely to emerge within the majority culture of Israel.
D. Vision of the Israel Graduate
Our school's vision of the Israel graduate stands as a bridge between theory and practice. Consistent with what we have described above, this fits into the school's vision of the graduate at large. That vision, which frames so many realms of the school's initiatives, from the way it structures advisory to the way it selects its valedictorian and salutatorian, is broken up into three integrated realms—Torah (learning), Avodah (Spiritual Practice/Jewish identity), and Gemilut Hasadim (Ethical Action)—which together frame and foster a balanced, capable, committed, responsible Jewish human being.
Below are the critical dimensions of our Israel graduate, which reflect the above three foundations and fit into what our graduate knows, feels, and does.
Knows:
Possesses a working knowledge of Hebrew, Israeli history, geography, politics, philosophies of Zionism, and Jewish texts (Biblical, rabbinic, midrashic, literary-cultural…).
Exercises critical and integrated thinking in understanding Israel as a complex multicultural society.
Articulates Israel's historical, religious, and political significance in relationship to larger Jewish and American contexts.
Feels:
Possesses an expanded sense of curiosity, wonder, connection and personal maturity.
Feels mutual responsibility for and belonging to a people and a nation.
Feels a sense of interdependency with Israel, i.e., that she needs Israel and Israel needs her.
Does:
Continues to learn about Israel as an integral part of her Jewish identity.
Engages in extended study in Israel before, during, and after college.
Builds lifelong relationships with Israelis.
Demonstrates loving commitment and caring criticism towards Israel.
Participates as an active player rather than a spectator in building Israel and America.
Articulates how Israel fits into her larger vision of American Jewish and Covenantal Jewish identity.
Contributes to an active Israel culture on campus.
Practice
At this point, Milken's programming consists of the following initiatives which are designed to concretize the commitment of our mission "to foster a deep connection to Israel":
A. Nofim
We are collaborating with master Israeli educator Rachel Korazim on a spiral, interdisciplinary 7-12 curriculum, focusing on Crossroads צמתים – (Grades 7-8), Sites and Sources – מקום ומקור (Grade 9-10) and Scene and Society חברה וסביבה (Grades 11 -12). The curriculum integrates cutting edge technology, geography, history, social sciences, arts and politics with a wide range of Jewish texts. Currently, we are engaged in the creation, experimentation, and refinement of units within Crossroads which are designed "to build the core narrative of the connections between the people and the land of Israel throughout the ages and across the landscape." A critical dimension of this program involves intensive staff development in Israel for a significant portion of our school's faculty.
B. Tiferet Fellowship in partnership with Alexander Muss
Milken will send 60 second semester tenth grade students to the Alexander Muss Institute for Israel Education. The Muss program provides students with a powerful intellectual and experiential connection to the land, living history, and people of Israel. Our program contains a significant mifgash component with Israelis.
C. Shalom Hartman Institute Advanced Israel Seminar: The Challenges and Opportunities of Statehood
This year, we will initiate a culminating program for seniors in which Tiferet students return to Israel to focus on critical contemporary issues facing Israel. Amongst the issues are Borders and Security, Minority Rights, Religious Diversity and Pluralism, State and Religion, Social Justice, Industry and Economic Growth, Israel and World Jewry. The seminar will contain text study with leading experts in each field, on the ground exploration of current successes and failures in each area, and workshops on translating learning into leadership training.
D. Other Programs
In addition to the above programs, Milken engages in a number of other formal and informal Israel programs, including an eighth grade exchange with Lady Davis in Tel Aviv (as part of the Los Angeles-Tel Aviv Partnership), a summer high school exchange program with Shevach Mofet in Tel Aviv, science partnerships and competitions at the Technion and the Weitzman Institute, AIPAC, and training programs in public speaking. Furthermore, Israel education takes place in our ninth and tenth grade integrated World/Jewish History courses, Jewish Studies courses, and our required Senior Seminar on Israel.
A final word about vision. Our Israel programming is designed to be integrated in nature and developmental in complexity. At the end of our program, we are looking for students who are, in the words of Holocaust scholar Michael Berenbaum, producers and not merely consumers of Judaism. Classroom and experiential Israel education should deepen one's American Jewish and Covenantal Jewish identities. By sending more and more students to Israel at the end of tenth grade, we work to immerse them in the history, land, and people of Israel so that they can engage in and construct Israel and America's present and the future.
During the sixtieth anniversary of the State of Israel, congregations across North America sponsored numerous cultural and political Israel events. While many of these events were no doubt highly edifying, a different vision for North American Zionism would highlight educational process rather than events. In this vision, congregations would develop five or six ongoing American-Israeli working groups in which participants engage in a process inspired by Rabbi Dr. Donniel Hartman's conception of "society building." In this vision, Americans bring their experience and expertise to collaborate on critical social, political, environmental, cultural, spiritual, and educational issues facing both Jewries. A significant achievement would be to prepare our students with the capacity, commitment, and responsibility to take on leadership roles within these society-building settings. ♦
Rabbi Gordon Bernat-Kunin serves as Rabbinic Director at the Milken Community High School in Los Angeles and develops day school educational leadership initiatives for the Shalom Hartman Institute. He can be reached at gbernat-kunin@milkenschool.org.
Return to the issue home page:
Image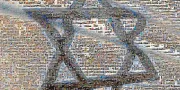 Israel & Zionism Education
Spring 2009