From the Editor
But as our recent San Francisco conference proved, being together in difficult times can be uplifting. And reading this issue of HaYidion will likewise prove inspiring. It examines the pedagogical complexities involved in teaching about our homeland while living in the Diaspora. It brings a multitude of diverse theoretical and pragmatic approaches to bear on a challenging and complex theme. It will raise your spirits as you contemplate the diversity that underlies what we do in the Jewish community day school world as well as the unity that sustains and nourishes us all.
Israel was founded on hope. Hope was the theme of our recent presidential election. Hope and a belief in a brighter future sustain us all in our educational enterprises. This issue of HaYidion will help reinforce your optimism and your commitment to Israel, to our people and to our future as surely as spring follows winter. ♦
Dr. Barbara Davis is the Secretary of RAVSAK, Editor of HaYidion and Head of School at the Syracuse Hebrew Day School in Dewitt, NY. Barbara can be reached at shds@twcny.rr.com.
Return to the issue home page:
Image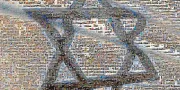 Israel & Zionism Education
Spring 2009