From the Desk of Susan Weintrob, RAVSAK President
From the Desk of Susan Weintrob, RAVSAK President
This year is the same in that sense, and yet I heard from everyone that, despite how busy our lives were before, somehow we have added many more layers—more worries, more duties, less resources.
Our RAVSAK conference framed this crisis differently. With the inspiring keynote addresses from Alex Pomson and Jonathan Cannon, we all saw that the door had opened for us to see a more creative and a newly defined framework for twenty-first education. Here was an opportunity that we not only could take—we must take.
Inspiration and vision need foundations, and we also heard from speakers who offered us the specifics of how to keep our vision flourishing. From workshops on special needs to data keeping, from a one-day economic summit to a "Yom Iyun," a program of teacher development that drew 130 teachers from the Bay Area, we questioned and listened and learned together.
The ripple effects in my own school were immediate. One of my fifth grade teachers was inspired by Fran Urman's workshop on feedback. At our next staff meeting, she arranged to create a "professional dilemma" and for all of us to listen and respond in a wonderfully defined manner described by Urman. We felt we had moved to another level professionally. A kindergarten teacher wanted to share her enthusiasm for Larry Kligman's presentation of Daniel's Pink's book A Whole New Mind. Ten of us are meeting at lunch to read and discuss it together.
Professional practice is always difficult and needs support. Our conference gives us an intellectual and social high that is then supported by our colleagues and our strong professional staff, led by Marc Kramer, whom I applaud more than ever. While many other organizations cancelled their conferences, ours was the largest RAVSAK conference ever.
One of our school families, mother and children, recently went through a formal conversion. The Jewish husband had not requested this, but as the mother wrote in her talk after immersion in the mikvah, "The soul needs a home." In turbulent times, we search for economic stability; our souls also need nourishment. At the conference, we found resources for both.

Bivrachah,
Susan ♦
Susan Weintrob is the President of RAVSAK and the Head of School at the Ronald C. Wornick Jewish Day School in Foster City, CA. Susan can be reached at sweintrob@wornickjds.org.
Return to the issue home page:
Image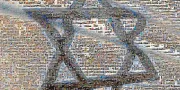 Israel & Zionism Education
Spring 2009