Celebrating Israel's Complexities Through the Arts
Celebrating Israel's Complexities Through the Arts
As writer, broadcaster and musician Kobi Oz once said: "I don't want Israel to be a normal country like any other. I want it to be special!"
It is a scene from the stunning video art piece by Yael Bartana, Trembling Time. Trembling Time is no essay about Israel's Memorial Day, Yom HaZikaron. It is not a historical explanation of the traditions of Yom HaZikaron, it draws no explicit comparison with North American Memorial Days, nor does it explain or contextualize the way in which all comes to a halt with that terrible siren. It is an Israeli piece of art. It is multivalent. It says many things all at one time. And it packs a huge emotional punch.
What are we as educators to make of something like this? Why on earth would we work with something so powerful, so uncontrollable as the arts, when dealing with a subject so powerful and uncontrollable as Israel?
For Israel is uncontrollable. The history books aren't finished, and the story isn't over. The curriculum would seem to be expanding and complicating itself as the days go by: which aliya story are we telling now? How can the infinite complexity and dynamism of the latest Russian aliya be summarized? The festering sore of the Moroccan aliya, still felt to the third generation, explained? School twinnings and partnerships with Israel are supremely valuable when managed well, but the people-to-people approach is still overwhelmed by current affairs: Is a video conference with Sderot students fully sufficient to tackle all the complexities of the Gaza offensive?
With so many difficulties, why on earth make it more difficult by throwing the arts in the mix?
Some of us may choose to avoid the tough stuff, and stick with the old textbooks. Some of us may work with the arts—but we'll make sure that we "tame" the experience as much as possible. We'll study the words of the song but not listen to the blazing music, or we'll learn context for a week before reading the poem, or we'll hurriedly switch to structured discussion with the fluorescents bright the moment the disturbing film has ended. Without necessarily intending to do so, we strip away the passion and the beauty of the art, leaving only another "text." As Susan Sontag archly observed over 40 years ago: "Interpretation is the revenge of the intellect upon the arts."
It may be that a more useful approach would be to engage with the Israeli arts for what they are: one of the most aesthetically appropriate forms to engage with Israel. Good contemporary Israeli arts are powerful, dynamic, complex, emotional, and full of inspirational energy. Just like Israel itself…
The words to Etti Ankri's hit song of a few years ago, "Millions," can read as a searing political poem about the gaps between rich and poor—harrowingly relevant these days: "And there are millions like me rolling around the streets / Mortal folk / With no money—not worth a dime / Today it's me / Tomorrow it's you / No money—not worth a dime." It is only in listening to the gentle half-reggae rhythms of the song itself, or even watching the video clip as this beautiful woman rides around the streets of Israel on the back of a wagon smiling and strumming her guitar, that we can appreciate how the song is far more than just a text. It is complex, self-contradictory, full of love and rage. Like Israel.
The rising star of Israeli pop music in 2008 was Alma Zohar. Her latest hit, berating what seems to be an inattentive and cruel friend, rocks to the chorus line: "Know who you are, / Know from whence you came/ and whither you will go, / and before whom you will give an accounting…" The words of the Ethics of the Fathers roll to a reggae beat in a personal, secular context. What more do we need to enter into the complex relationship between modern-day Israel, its textual roots, and the Hebrew language? The song is not intended as an interpretation of the ancient text. It is, in the formulation of Simon Parizhsky, not a perush (interpretation) of the text, it is a shimush (use)—and this has value, too. In a sense, we might say that Israeli everyday life involves ancient text and in so doing interprets it as well.
Too often we have looked for the familiar and the comfortable in Israel. We choose to build connections through that which is known. Perhaps in so doing we establish an unobtainable expectation: That life in Israel is just like anywhere else! As writer, broadcaster and musician Kobi Oz once said: "I don't want Israel to be a normal country like any other. I want it to be special!"
Israel is special, in all sorts of complicated and even painful ways, and the arts enable us to celebrate this. The TV series Merchak Negi'ah (A Touch Away) brings us closer to Israel precisely through its difference. A twist on Romeo and Juliet, it places a newly-immigrant secular family from Moscow next door to an ultra-Orthodox household in Bnei Brak. Through excellent acting and delicate writing the series shows us—all audiences—not that we are all the same, but that we are all different and the same in all sorts of fascinating ways that a piece of art can portray as unified.
At MAKOM, the Israel engagement think-practice tank for the Jewish Agency, Jewish communities, and the Jewish world, we invest all our energies in discovering the unifying celebration of complexity and difference. On the one hand we need to be able to express our love and support for Israel and delight in its existence. Yet on the other hand we need to allow ourselves to acknowledge and work to repair its flaws.
If in its first few decades of existence, Israel needed to be "hugged," now we need to enable our students to both hug and wrestle with Israel—sometimes both at the same time. Operating from this paradigm of "hugging and wrestling," we work at empowering educators and community leaders through compelling materials, workshops, seminars, and consultancy. The arts are just one of our areas of concern, but for me, one of the most fascinating and promising. ♦
Robbie Gringras is the Artist-in-Residence for MAKOM (www.makom.haaretz.com and www.makomisrael.net). He can be contacted at robbieg@jafi.org.
Return to the issue home page:
Image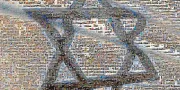 Israel & Zionism Education
Spring 2009