How a School and its Board Create "A" Human Beings
How a School and its Board Create "A" Human Beings
Howard Farber
Once I began reading the speech, the memory of what I had said some 40 years ago came back to me. I spoke about the three steps necessary to build a house, first the foundation, next the walls and finally the roof. As I read my speech, I had a very strange feeling that the words I spoke back then seemed to guide me throughout my entire life. I realized that everything that I have ever been involved in has needed a strong foundation in order to be successful.
If we were to be successful, our new institution had to have a set of core values which were based upon Jewish values that everyone could follow. It was our intention that not only our head of school, the faculty, staff, and students would follow them, but our board of trustees would also use them while acting as ambassadors for the school.
From the very beginning my parents provided me with a strong foundation, a home based upon Jewish values. I thought about how their decision to send us to Hebrew school and Camp Ramah was truly the foundation of our Jewish learning and values. I realized that this solid foundation of values helped guide me during the different stages of my life. Throughout my school years they helped to keep me grounded and focused. I thought back to my university days, when I became president of my fraternity, and realized that I had the responsibility to lead based upon the values and teachings of its founders. And when I joined the family business, the core values established by my grandfather, and passed down to my father and uncle, were the foundation that we as the third generation now used to follow in their footsteps.
This is also the reason why, that when it came time to contemplate building a Jewish high school, the first thing we did, two years prior to opening our doors, was to hire our head of school, Dr. Bruce Powell. The main reason for doing so was because we needed to establish a foundation. If we were to be successful, our new institution had to have a set of core values which were based upon Jewish values that everyone could follow. It was our intention that not only our head of school, the faculty, staff, and students would follow them, but our board of trustees would also use them while acting as ambassadors for the school.
Today, at New Community Jewish High School, or "New Jew" as it is lovingly referred to, we are successful because everyone has a solid foundation of core values which are constantly used to guide our decision making process. New Jew's Expected School-wide Learning Results or ESLRs (pronounced S-lers) are a set of guidelines that are designed to, as Dr. Powell says, "create 'A' human beings." The six ESLRs we use to guide us are as follows:
Students engage in thoughtful acts of Tikkun Olam (world repair), and act with integrity, honesty, and wisdom.
Students understand that learning is a life-long enterprise, and recognize the vital interaction of knowledge and Jewish values.
Students appreciate their obligation to participate in and strengthen all facets of community life, and to respect the religious practices and ideals of others.
The school engenders in its students a sense of hope, joy, self-confidence, personal meaning, and passion for life based upon their understanding of Jewish tradition.
Students achieve critical, synthetic, and evaluative thinking skills and strive for wisdom in their judgments and choices in life.
Students strive to search for the deeper meaning in life and determine that which is truly important.
Dr. Powell reminds the faculty, staff, students and members of the Board of Trustees of our ESLRs, in order to keep everyone focused on the type of value-based education which we desire for our children.
The ESLRs are used by the faculty in the classrooms when teaching students, regardless of the subject matter. The teachers also use them outside the classrooms with their students and with each other, thus creating a campus-wide system of mutual respect.
The administrative staff uses the ESLRs when communicating to students, and parents alike. Everyone who comes into the administrative office finds it to be a very hospitable place and the entire staff polite and accommodating.
The students use the ESLRs in their search for, as Dr. Powell says, "understanding a big thing from a little thing." Recently when a group from an outside accreditation committee came to the school, they did not truly buy into the whole ESLR thing. When they actually engaged students in conversation, chosen at random, they found out that our students not only "walk the walk, they talk the talk." It was clearly evident to them that our children both truly respected and embraced the ESLRs."
Finally, the Board of Trustees uses the ESLRs not only when policy issues need to be decided, but throughout our board meetings when crucial decisions affecting the school or an individual are required. In the past, they have been used when additional tuition assistance funds were needed to make "New Jew" available to every Jewish student wanting a Jewish values base education, and an affirmative vote of the Board was required. This "no child is turned away due to need" policy is also backed by the Board when a child needs financial assistance to go to Israel on one of the school's two programs. The Board follows ESLR number 1, and acts with integrity and honesty when other financial decisions are made. For example, when deciding faculty salaries and benefits, we budget for our Head of School to be able to fairly compensate and provide everyone with benefits without compromising the academic excellence our parents and students require. The ESLRs are even used by each sub-committee of the board when they are developing programs or working on fundraising opportunities.
A prime examples of how our Board follows ESLR number 3, building community, is our policy that encourages our head of school to go out into the community, to other schools, and provide pro-bono workshops on everything from Board governance, fundraising, and even helping to create mission and vision statements.
One of the most gratifying moments was when our Board admitted a student to our school who was asked, for whatever reason, to leave another school. We did so because of our school motto of "building community, one mind at a time." We did so because of ESLR number 1, engaging in thoughtful acts of Tikkun Olam. What better way could we begin repairing the world then to save a child, who had a terrible lapse in judgment. Today, this child is a graduate of New Jew and attends a major university, and as a Board, we are very proud to have been able to help along the way.
All of us associated with New Community Jewish High School are guided by our set of core values, or ESLRs. It is our belief that if we all strive to follow these guidelines, then together as a community, we will create not only an educational institution that will turn out "A" human beings, but we will have created a system of succession planning based upon Jewish values. Generation after generation of "New Jew" alumni will constantly engage themselves in thoughtful acts of Tikkun Olam, and on that day, our vision and mission will have been accomplished. ♦
Howard Farber is the founding board president and a current board member of New Community Jewish High School in West Hills, CA. He can be reached at [email protected].
Return to the issue home page:
Image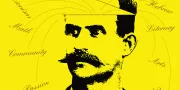 Summer 2010