Getting the Right People "on Board"
Getting the Right People "on Board"
Mary Hundley deKuyper
When considering new members for a school's Board of trustees, most Boards focus on the constituencies these potential new trustees represent. In considering bringing in new members based on their constituency, you should be aware of the following:
Current parents. Day school Boards tend to have large numbers of parent-trustees. Often, K-6 and K-8 school Boards are made up exclusively of parents. Cooperative school Boards are by definition constituted solely of parents. Parents bring a deep personal interest in the school. However, they can be focused on the present, generalize from their children's experiences, and become more involved in operational matters. NAIS recommends a balanced Board, with 50 percent or less being current parents. Such Boards, experience shows, have all the zeal of parent-driven Boards but less preoccupation with the present and more of a future-focused, strategic orientation.
Alumni and Trustees. Day school Boards of K-12 and secondary schools have more alumnae/trustees. Often a majority of trustees at Boarding schools are graduates. These Board members bring a spirit of gratitude for their education and are living examples of the fulfillment of the school's mission. Occasionally, however, they are so enamored of the past that they have difficulty adapting to and embracing change.
Faculty. A small percentage of schools have faculty-trustees. This is not a recommended practice, but many schools with faculty on the Board find they are deeply committed to the school's mission and bring their educational expertise and knowledge of students to the Board's deliberations. However, most Boards look to the head for such expertise and knowledge. In fact, having faculty-trustees makes them their own "bosses," as the Board oversees the head, who oversees the faculty. This conflict of interest can make things difficult. NAIS recommends that faculty members not serve on the Board; rather, they should be included on committees and task forces where their expertise will be of value.
Students. Very few schools have student-trustees, and NAIS recommends against their serving the school in that capacity. Not only are they not of age legally, but their general maturity can make it difficult for them to move beyond their particular experiences as current students. Nevertheless, there are ways to involve students in the work of the Board without electing them to it. Students may serve on committees, meet with trustees as student leaders, participate in surveys about their interests, and so on.
Past parents and grandparents. Past parents may constitute the best of all worlds for trustee service: They're committed, knowledgeable, and distant from current school issues. Grandparents may offer similar perspectives, and have a closer link to the school, without the immediacy of the current parent relationship. However, past parents might need more in-depth orientation than those who are currently associated with the school.
Funders. Although all schools hope that all of their adult constituents will contribute funds, it is not recommended that representatives of private and corporate foundations serve on the Board. In fact, many foundations have policies that forbid employees to serve on Boards of institutions that the foundation does, or may, fund. A perceived or real conflict of interest may arise when such individuals serve as trustees.
Friends. Though they may require more in-depth orientation, these trustees can bring the most objectivity as well as needed expertise not found within the immediate school community. Educators, especially heads, often serve as valuable trustees, as they bring the experience of other independent schools or institutions to the questions under discussion. However, it is recommended that you not recruit the heads of schools from which your school derives students or to which it sends students.
Although constituent-based Boards have been the frame of reference for independent schools in the past, contemporary thinking in the non-profit governance world suggests a new concept: visionary Boards, where trustees are selected less for the constituency they may represent and more for the imagination, team orientation, and strategic focus they may bring to the table.
To help find those visionary trustees, first develop a list of essential criteria for new trustees, based on a thorough assessment of the Board's and the school's needs. Keep in mind the oft-repeated three R's of trusteeship: raising image, raising students, raising money. Often, schools find their best trustees by asking others in their community to nominate prospective members. This helps Boards cast a broader net and think beyond the traditional constituent representation model.
If major gaps exist between the candidate pool and the criteria once you've come up with a roster of potential trustees, renew efforts to increase the pool. Keep a record of all those nominated and their background materials so that succeeding committees can renew them. A person who doesn't fit the current criteria may be perfect for the Board in three years.
Getting the "right people on the bus" or in this case, on your Board of trustees, is not an easy task. But doing extra homework in order to identify trustees for your school who will not just represent a constituency, but will also offer a wider perspective will help you ensure that your school thrives long into the future.
For information about the Trustee Handbook as well as other resources for independent schools, please visit the NAIS website: www.nais.org. ♦
Return to the issue home page:
Image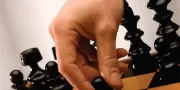 Winter 2007