Breaking Through the Screen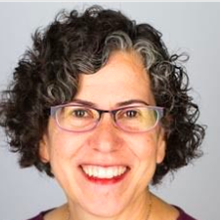 "This was so much better than we expected!" The 8th graders reflected on their two weeks of virtual Israel programming that stood in for their IRL Israel tiyyul this year because of the COVID-19 pandemic. Our two-week experience, led by Avi Allali, the Israel tiyyul coordinator, and Elisa Rotman, school social worker, was designed with the two prominent requests from the students and the school's educational and value-driven goals in mind. The students voiced their desire to have their distance-learning schedule suspended for the time they would have been in Israel, and to have time with their peers (albeit virtually) to bond and hang out. Israel is one of the school's seven core values:
Through Hebrew language education and immersion in Israeli culture, Solomon Schechter Day School personalizes for its students the American Jewish connection to Israel, instilling a passionate, lasting commitment to, and a sense of responsibility for, the State of Israel. 
The dilemma was to create an engaging and immersive chavayah (experience) that would solidify an emotional connection to Israel and expose the students to a variety of sites, people, and facts about Israel. We wanted the programming to break through the screen with synchronous interactive offerings presented in charismatic and interesting ways. 
The first step was to find a tour guide in Israel willing to play with us and step out of their comfort zone. I reached out to Ami Braun, who had guided my 8th grade students at Kellman Brown Academy a decade earlier. I knew Ami as an energetic, engaging, and fun guide, but he hadn't worked with this age group for years. His touring schedule halted, and stuck at home due to the pandemic, Ami was willing to try something new. We agreed that he wouldn't hand us video clips to show the students. Rather, he would prepare a presentation to show the students on Zoom, where he could guide students and answer questions. We added another layer by providing the students with activities to complete while they were in the sessions. One session Ami prepared a  bingo card with key names, places to fill in as he presented. Another day, he sent a scrambled recipe for the students to re-order as Ami and his wife made hummus with the students.
Each day began with Ami guiding in a different location. We even tried for him to "take" the students live to one or two locations, but the connection wasn't stable enough, and we found it was best to take the hybrid approach of having Ami live while sharing taped videos. Ami enhanced his presentations further by interspersing historic film clips and GoogleEarth live 360 images of the location. Among other locations, the students visited Ir David, the Jewish Quarter of the Old City including the Kotel, Nahal David, and Tzfat. 
My vision was to design the experience as multisensory as possible, adding in music, photography, cooking, and more. We invited Ami Yares, a talented folk musician who performed Israeli music for the students. Ami connected me with a gifted photographer, Udi Goren, who shared his colorful and dynamic presentations of his experiences on the Shvil Yisrael. Our timing was fortunate in that the Prizmah organized session with Ron Dermer, Israel's ambassador to the United States, took place during this week. Other events included student-led games and cook-alongs; meet-ups with peers from Israel and local Schechter alumni; Krav Maga sessions; a talk with the head of Israel baseball. We honored the students' request by creating a daily "lounge" over lunchtime, an open Zoom managed by Elisa where the students could shmooze and relax. 
On our last day, teachers volunteered to deliver a felafel to each student's home. As we shared our Israeli lunch together and apart, the students reflected on the virtual experience over the two weeks. Over and over, the students thanked us for putting together the virtual experience and expressed gratitude for creating an experience that was so much more than they thought it was going to be. 
As schools plan for the upcoming academic year, the path of the virus is uncertain, and our experience with pandemics is unprecedented. We are all challenged to forge ahead in multiple directions, yet it is certain students will not be able to participate in the experiential adventures which make our programs unique. How will we create Shabbat experiences when we can't bring everyone together in our schools or retreat centers? How will students visit historic sites in our cities, neighboring states, and Israel? What outdoor experiences have become traditions in our schools?