Hanukah in Jewish Day Schools Across North America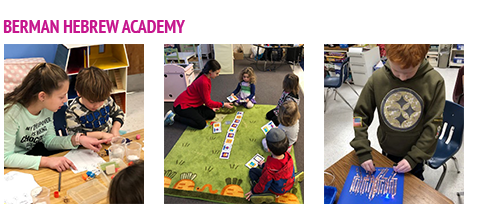 Rockville, Maryland
Berman Hebrew Academy was delighted to host a special parent guest to share her expertise. She guided the class in the creation of a paper circuit menorah. The children used copper tape, LEDs, resistors, and batteries to craft their own Chanukiyot that actually lights up. This project required focus and attention to detail -- and the 3Bees were up to the challenge! Happy Chanukah from Maryland!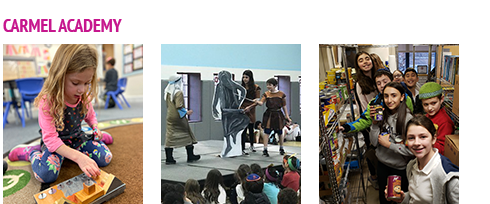 Greenwich, Connecticut
Each year Carmel Academy celebrates Chanukah in a big way - with an array of fun and thoughtful activities for all students. These activities focus not only on learning the story of Chanukah, but also learning about kindness, gratitude, and giving back to one's community. The concepts were implemented through experiential learning and going out into the community to give back. Happy Chanukah from Connecticut!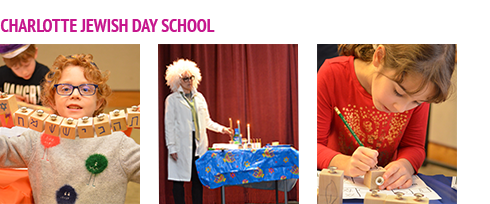 Charlotte, North Carolina
Charlotte Jewish Day School had a full day of special Chanukah programming beginning with a "Mad Science" presentation by Professor Dreidel, teaching students how they may be different on the outside, but all have a Jewish soul on the inside. Students in grades 4 and 5 built menorahs out of plumbing parts while grades K - 3 made menorahs out of wooden blocks and decorated them. Latkes and sufganiyot followed! Hag Urim Sameah from Charlotte!


Chicago, Illinois
The Grade 8 Judaic Studies class embarked on an inquiry-based project with the goal of making two interactive displays for Chanukah. Students learned Rabbinic texts and translated that knowledge into something interactive for the entire school to enjoy. The students also created thematic objects to activate informational recordings about the holiday. They wired LED lights and buttons then coded the responses using Scratch! This new experience enabled students to use their topic knowledge while exploring new types of technology in an authentic way. Happy Chanukah from Chicago Jewish Day School!


Pittsburgh, Pennsylvania
Early Childhood and Lower School students at Community Day School (CDS) learned about the meaning of Chanukah and celebrated the holiday with various special activities. Kindergarten created beautiful mosaic Channukiyot, 1st grade cycled through stations with frying latkes and completing math and art projects related to the holiday, and 4th grade shared their knowledge in guiding CDS 3-year-old and Pre-K students through activities like decorating candle headbands, playing dreidel, and dancing to Chanukah favorites. As a joint event with CDS and PJ Library Pittsburgh, more than 100 people gathered together for the S.T.E.A.M. Festival of Light, an illuminating afternoon of science, technology, engineering, art, and math (S.T.E.A.M.) in celebration of Chanukah. Chag Sameach from Pittsburgh!


West Orange, New Jersey
Golda Och Academy 5th graders with their kindergarten buddies at a special Hanukkah program. Everyone had the chance to sing their favorite holiday tunes and listen to a Hanukkah story. Happy Hanukkah from New Jersey!


Minneapolis, Minnesota
The Harold and Mickey Smith Judaic Studies Department strives to inspire young adults to take joy and pride in their Jewish identities, approach Torah and the study of all Jewish text rigorously and analytically, and commit themselves to active Tikkun Olam/תיקון עולם/Repairing the World. The study and observance of Jewish holidays is woven into the curriculum throughout the school year as seen here by the kindergarten students celebrating Hanukkah. Happy Hanukkah from Heilicher Jewish Day School!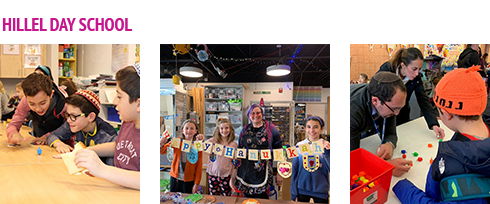 Farmington Hills, Michigan
At Hillel Day School, the theme of the school year is Joy, and at no time is it more apparent than in the days leading up to Chanukah! Throughout the school, students of all ages, in all learning environments, from Ivrit classes to the MakerSpace, are making meaning out of their learning about the holiday, and spreading light in and out of school. Chag Sameach from Michigan!


Los Angeles, California
Hanukkah at Milken Community Schools means time to serve the community! Throughout the holiday, the students engage in activities that benefit those around them from running a toy donation drive to celebrating Hanukkah with local seniors communities. Happy Hanukkah from Los Angeles!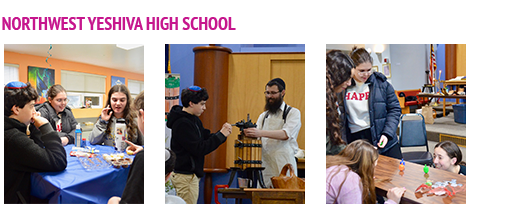 Mercer Island, Washington
Hag Urim Sameah from Northwest Yeshiva High School!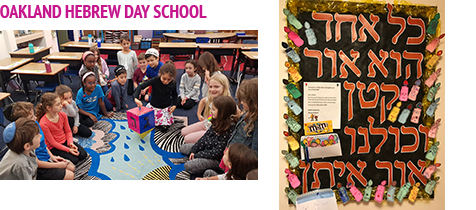 Oakland, California
Oakland Hebrew Day School's wonderful b'not sherut, Moriya and Meitav, played giant-sized Chanukah games with the kids. The b'not sherut girls join us every year from the Bat Leumi program in Israel, and bring lots of additional programming around Israel and the Jewish holidays. Oakland Hebrew Day School decorated the hallways with Chanukah spirit (translation: Each of us is a small light, together we shine bright). Happy Chanukah from Oakland!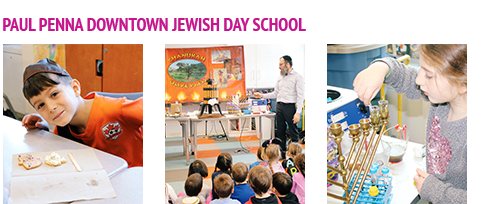 Toronto, Ontario
Chanukah is one of the best times of the year at Paul Penna Downtown Jewish Day School! Children and faculty members celebrate the holiday by participating in Chanukah crafts, latke baking, cookie decorating, olive oil pressing workshops, and of course, expanding their learning of the holiday. To conclude the holiday celebrations, the Paul Penna DJDS community comes together to watch the school's annual Chanukah concert! Chag Sameach from Toronto!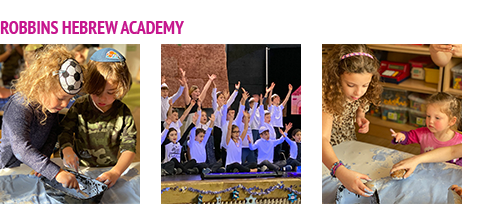 Toronto, Ontario
Robbins Hebrew Academy (RHA) finds ways to integrate cultural tradition, Judaic and general studies in unique ways.The celebration of Jewish holidays at RHA is an opportunity to bring the community together. Students prepare in advance of Chanukah by learning songs and the blessings that are recited each evening as they light the Chanukah. Students also created Chanukah cards made out of their handprints for children and families affected by devastating illnesses at Chai Lifeline Canada. Early Years students created Chanukah-shaped handprints and got into the spirit of Chanukah with a musical performance by grade 3 students. Happy Chanukah from Toronto!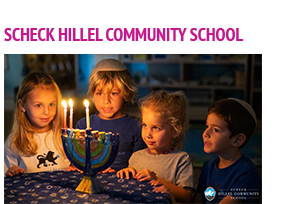 North Miami Beach, Florida
As students kindle the Chanukah lights recalling that A Big Miracle Happened There - Nes Gadol Hayah Sham - נס גדול היה שם," they are thankful for the blessings of family, home, and community. Schoolwide, students discuss the ways they can bring that special light to the world through mitzvot, chessed and lifelong learning. Scheck Hillel Community School wishes all a Chanukah filled with hope and the promise of miracles to come!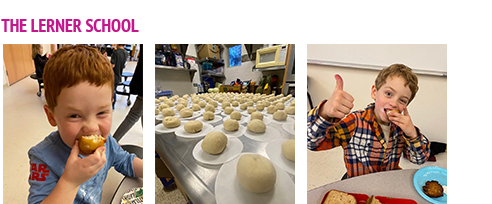 Durham, North Carolina
The Lerner School celebrated Hanukah by collaborating with an alumni parent volunteer to make sufganiyot from scratch. Chag Sameach from North Carolina!


Houston, Texas
Chanukah at The Shlenker School gathers the entire community together. In the classroom, the holiday is celebrated in many different ways, including reading the story of Chanukah, playing dreidel and other Chanukah games, eating latkes and sufganiyot, and much more. Additionally, there is a community-wide celebration at Good Morning Shlenker and Kabbalat Shabbat. Chanukah is great example of how the community comes together to celebrate Jewish heritage. Happy Chanukah from Houston!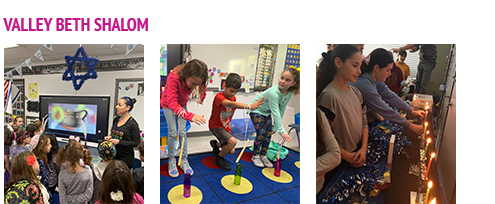 Encino, California
This past week Valley Beth Shalom Day School students joyfully celebrated Hanukkah on campus. The students ate delicious sufganiyot, sang festive Hanukkah songs and blessings, lit menorahs, and played dreidel games. Happy Hanukkah from California!