Join other heads of school from Jewish day schools and yeshivas across North America with 150 students or fewer to explore your own leadership and gain support and strength from our community. Small schools are vibrant centers of Jewish life and learning, and have adapted to the needs of the moment in unique ways. Together with your colleagues:
Share leading practices and learn about new models that have worked in other small schools.
Learn from the expertise of field leaders with challenges  and successes similar to your own.
Grow and develop a strong support network of peers.
Program Overview
The Small Schools Retreat is designed to give you opportunities to learn from each other and to learn with experts on topics relevant to the needs of small schools. Each day will feature two content sessions focusing on elements of leadership in small schools: your own leadership, leadership within school, and the school as a leader of community. The content sessions are designed to be engaging and participatory, and to help you think through issues relevant to your practice and to apply new approaches to your work. There will also be a Core Shared Experience each day, which will be an opportunity to connect with other small school leaders and share ideas and resources.
We hope you will plan to participate in the entire program. We also recognize the time constraints on school leaders, and understand if you need to step out for a session. If you need to prioritize your participation, please make an effort to attend the Core Shared Experience each day so that we may build a community of mutual support and trust.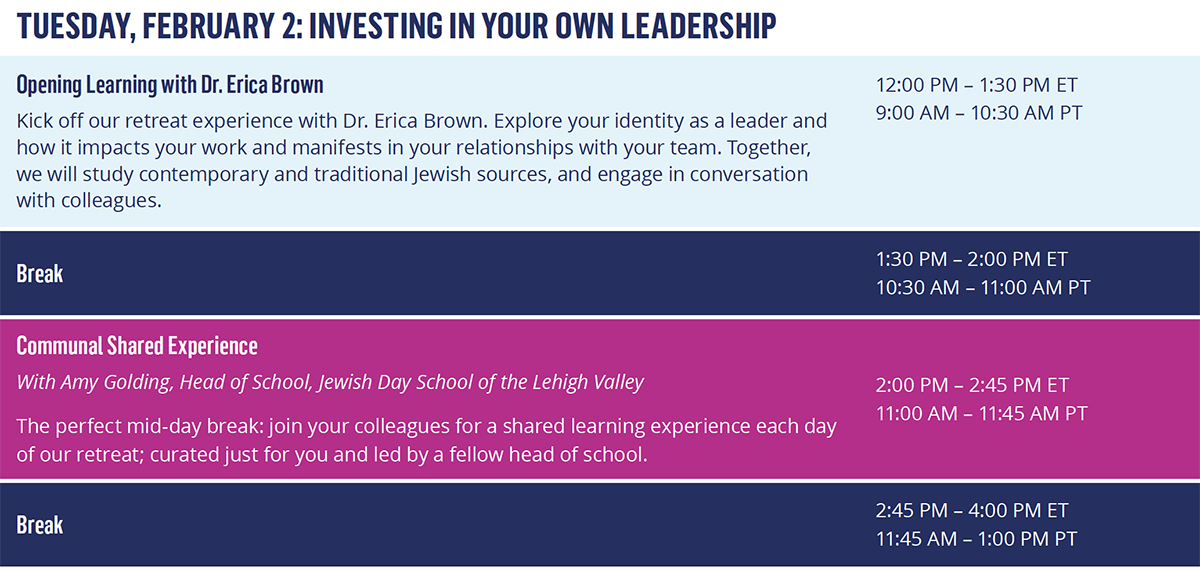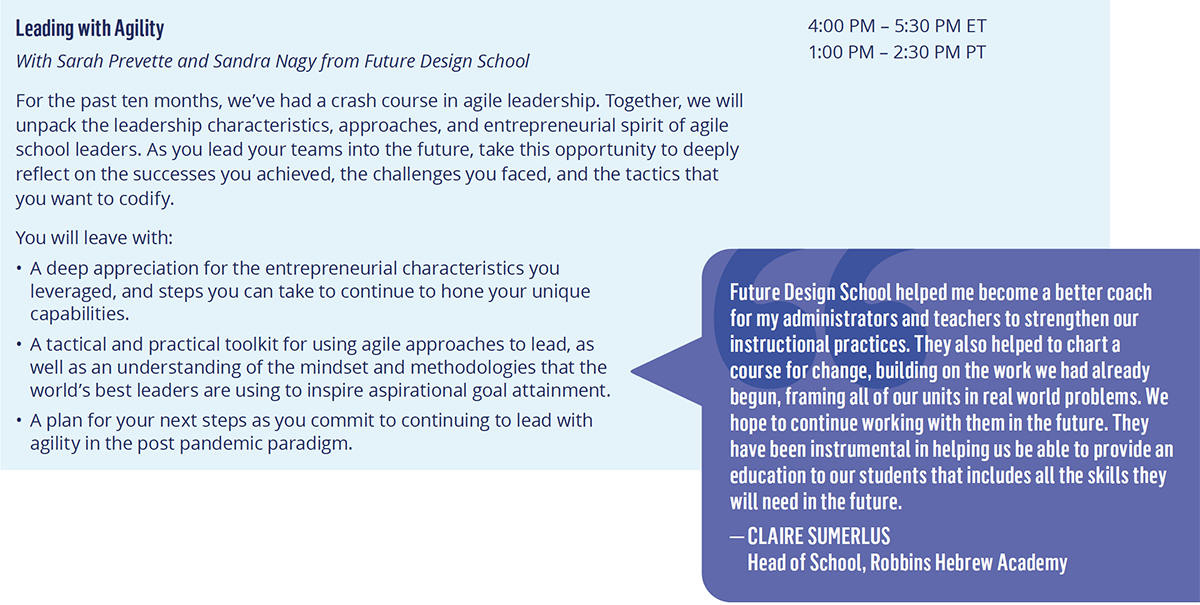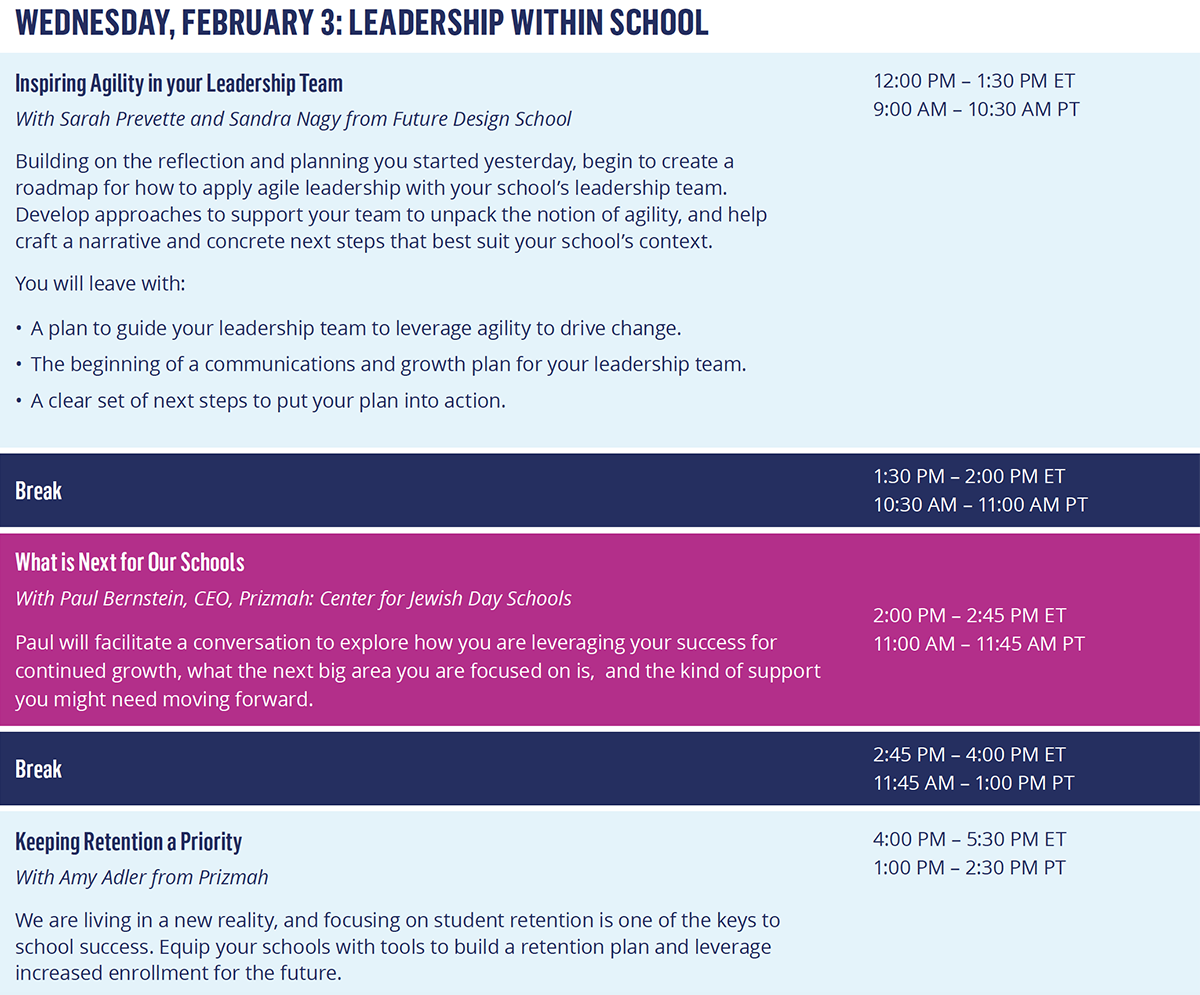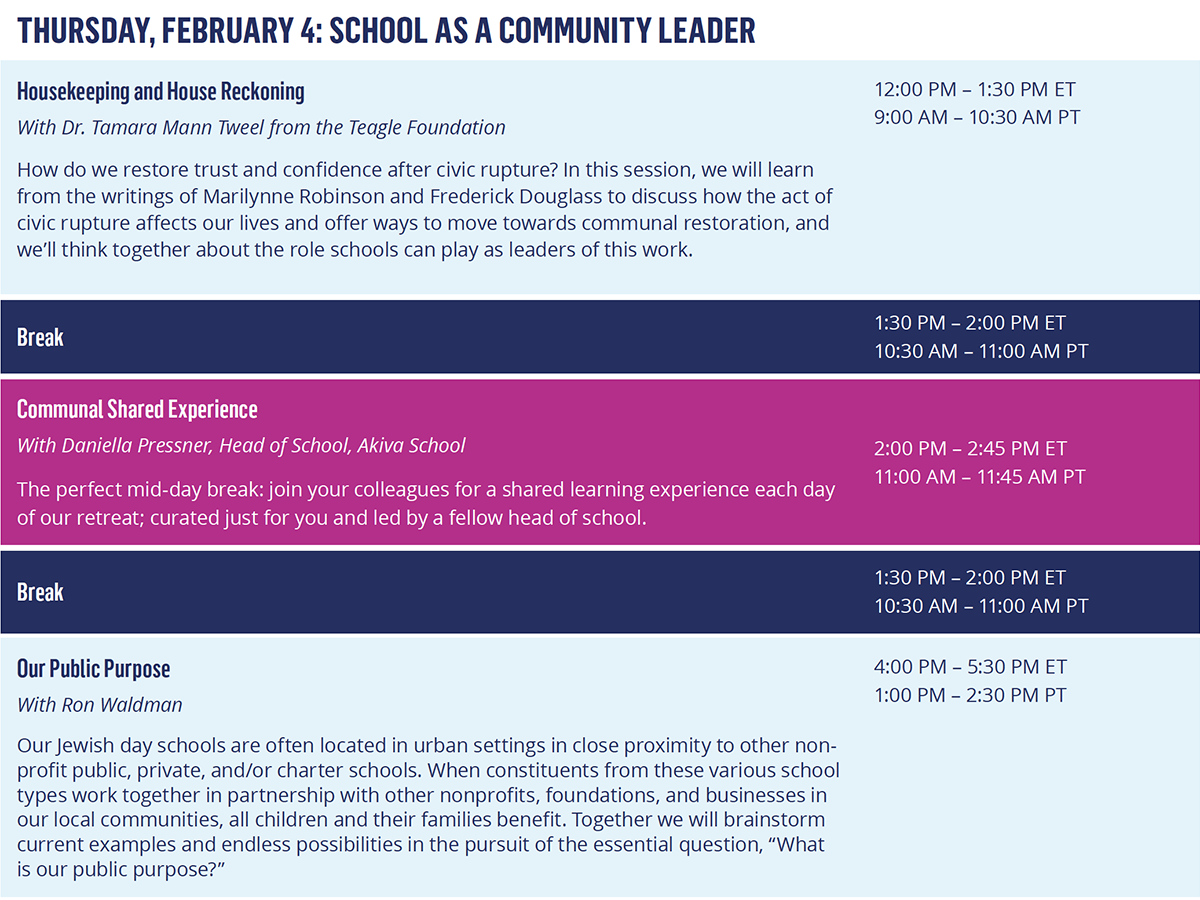 Presenters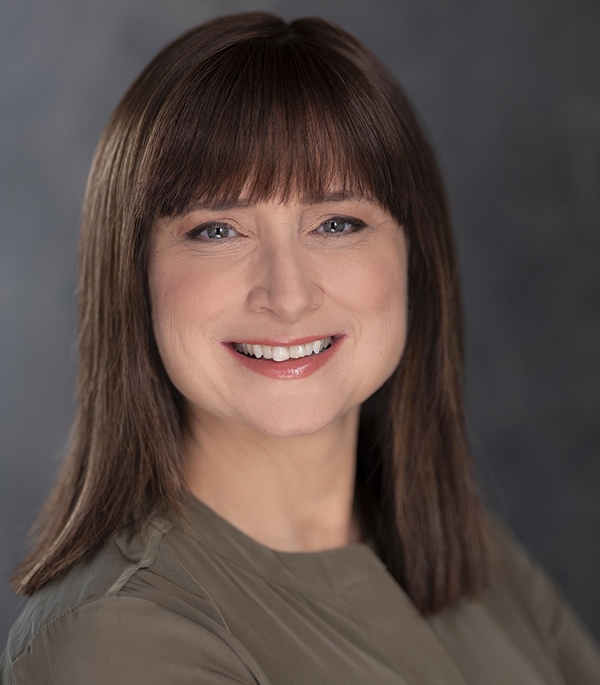 Dr. Erica Brown is the director of the Mayberg Center for Jewish Education and Leadership and an associate professor of curriculum and pedagogy at The George Washington University. Erica was a Jerusalem Fellow, is a faculty member of the Wexner Foundation, an Avi Chai Fellow and the recipient of the 2009 Covenant Award for her work in education. She is the author of twelve books on leadership, the Hebrew Bible and spirituality; her newest book is The Book of Esther: Power, Fate and Fragility in Exile (Koren). She has been published in The New York Times, The Atlantic, Tablet, First Things, and The Jewish Review of Books and wrote a monthly column for the New York Jewish Week. She has blogged for Psychology Today, Newsweek/Washington Post's "On Faith" and JTA and tweeted on one page of Talmud study a day at DrEricaBrown. She has a daily podcast, "Take Your Soul to Work."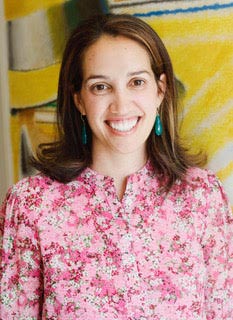 Dr. Tamara Mann Tweel is Director of Civic Initiatives at the Teagle Foundation. Previously, she served as the co-founder and Director of Civic Spirit and the Associate Director of the Freedom and Citizenship Program at Columbia University. She currently teaches in the American Studies Program at Columbia University and at the Shalom Hartman Institute of North America and serves on the Advisory Council of The Princeton University Office of Religious Life. Tweel received a master's degree in theological studies from the Harvard Divinity School and a doctorate in history from Columbia University.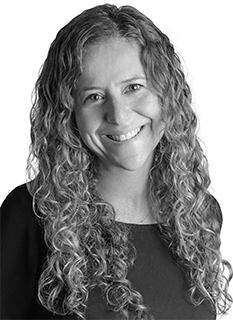 Sandra Nagy empowers educators to prepare students for the future. As the Director of Learning at Future Design School, Sandra has dedicated her career to innovation in learning. She has been a driving force in effecting technology-enabled youth programming across North America, and has been featured as a thought-leader in renowned publications including Entrepreneur Magazine. With over two decades of expertise, Sandra has designed, developed and delivered hundreds of learning opportunities to thousands of employees and educators, enabling students to develop critical competencies that help them tackle real-world problems, create innovative solutions and change the world. Prior to her current role, Sandra delivered exceptional results at educational organizations including Pearson Education, The Learning Partnership and Accenture. She has a Master's in Education from Harvard University, focused on Technology in Education, and holds a Bachelor of Commerce focused on Organizational Behavior
and Entrepreneurship from McGill University.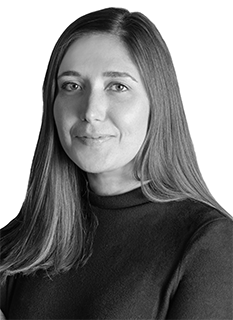 Sarah Prevette is the Founder and CEO of Future Design School. Sarah is a serial entrepreneur who has successfully sold multiple companies, invested millions of dollars in early-stage startups across a wide variety of industries and has been recognized as one of the top startup thought leaders in North America. Prevette has developed transformational strategy for some of the country's most renowned brands and has been recognized for her work in several publications including The New York Times and Wall Street Journal. She is currently the CEO of Future Design School -- an organization that is working to transform schools around the world. Prevette has been named by Inc Magazine as one of the top entrepreneurs in North America and one of the "Top 20 Power Elite" by Canadian Business. She is a sought-after thought leader and has shared her insights at many prestigious events and institutions including MIT, Columbia and NYU. Prevette continues to be a global evangelist for Canadian startups and gives back to the community through her work as a board director and advisor at renowned innovation hubs around the world including MaRS, Communitech, VentureLab, Rideau Hall and Station F.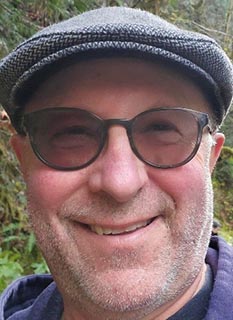 Ron Waldman is currently Head of School at Seattle Jewish Community School and is retiring this spring after a 46-year career in independent education.  In years prior, he served as an Interim Middle School Principal at an American International School in Israel; a Head of School (K-5) and Director of Middle School (6-8) in two NWAIS accredited independent schools in Seattle; NWAIS Board experience for two successive terms including serving on its accreditation committee; teaching career in science education (MS and HS), consultant in inquiry-based science curriculum development; Co-chair of Life-Long Learning Committee (adult education) plus two-term trustee at a Seattle reform synagogue.
Registration Fees
Prizmah Network Schools: $180 per person
Non-Prizmah Network Schools: $225 per person
Participants from Canada, enter the following codes in the discount field to receive Canadian pricing:
Canadian Prizmah Network Schools: $135 US per person (Code: CADNETWORK)
Canadian Non-Prizmah Network Schools: $168.75 US per person (Code: CADNON)
For participants from the US, the registration system will automatically charge you the correct price based on whether or not your school has joined the Prizmah Network.
For participants from Canada, please check this list to determine whether you should use the network or non-network code.